Arghh! Welcome to
The Pacific Times
!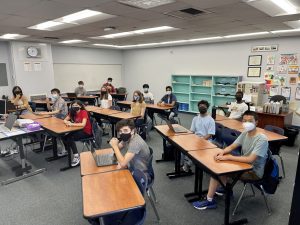 Krista Chouang & Jack Fedor
CO-EDITORS
Isabella Bravo & Alexis Kobane
COPY EDITOR
Surya Tanikella, Alexis Kobane, Isabella Bravo,  Marcos Mendoza Pulice, Leila Pabst, Guy Gong & Wayland Zhu
STAFF WRITERS
Sophia Le
GRAPHICS
Krista Chouang & Isabella Bravo
SOCIAL MEDIA MANAGERS
Brandy Tuzon Boyd
ADVISOR
---
This is the FIFTH year of NP3 High School's online news website.
Here at The Pacific Times, the student staff members are driven and dedicated to inform NP3 High students, parents, and teachers about news in our school community and offer a student perspective on these and other topics.
If you have any story ideas or news that you would like our staff writers to cover, visit the "Contact Us" page or e-mail np3highnews@gmail.com.
Subscribe on the homepage to receive e-mail alerts about new content posted on The Pacific Times!
Follow us on Instagram @np3highnews.
---