By Nimrat Bains
Staff Writer | The Pacific Times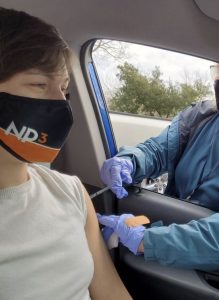 Everybody reacts differently to the COVID-19 vaccine.
The Pacific Times asked vaccinated NP3 High teachers about their experiences getting vaccinated.
Majority of the NP3 teachers received the COVID-19 vaccine in February and March 2021.
After receiving both doses of the COVID-19 vaccine, Karen Rice experienced some side effects. Rice teaches English 10, English 10 Honors, and ARC's Dual Enrollment English Composition Course.
"I had a pretty bad headache and some minor chills for about 24 hours afterwards. My arm was sore," said Rice
Pain, soreness, headache, muscle pain, chills, nausea and fatigue were common side effects NP3 teachers experienced after receiving the COVID-19 vaccine.
Despite these side effects, teachers said it did not affect any of their daily activities.
"I just avoided laying on the sore shoulder or doing anything that required lifting my arm high," said Staci Osborn, who teaches Criminal Law, Constitutional Law, AP Research, Cultural Anthropology, Biology, and Economics/Civil Law.
Anthony Parker received the COVID-19 vaccine at the end of February. "Just a sore arm," said Parker. He teaches Criminal Law, Economics, Government and World History.
Alejandro Chan-Artiga experienced chills and fatigue as side effects of the COVID-19 vaccine.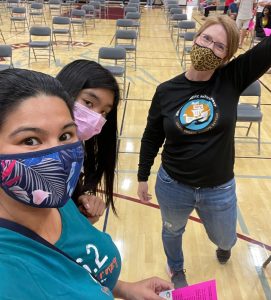 "I did have side effects the second time. I felt very fatigued a couple of hours after taking the shot and took a long nap. Throughout my nap and the following night as I tried to sleep, I experienced chills and had a hard time sleeping," said Chan-Artiga, who teaches Biology and Experimental Science.
Teachers who were vaccinated at Cal Expo reported a positive experience.
"It was a drive up at Cal Expo and the logistics of the drive up was very interesting. They seemed to have a very efficient operation," said Parker
Katie Durham also got vaccinated at Cal Expo. Durham teaches ninth grade World History, AP World History, and Pilates.
"I went to the Sac County site at Cal Expo that is run by the National Guard and I had an excellent experience. Everyone was incredibly nice and I got to talk to some retired nurses who were volunteering in the parking lot," said Durham.
Rice had a positive experience with the vaccination clinics and was very impressed with the organization.
"It was incredibly easy and smooth. I went to Cal Expo and had it done through the County. I was impressed with how well organized they were," said Rice.
Jennifer Hembree's experience with the vaccination process was a positive one. She was impressed by the efficiency and speed.
"Pretty easy and painless. They've really got mass vaccination sites nailed down. I was impressed at the speed and efficiency," said Hembree, who teaches US History and Student Government at NP3 High School.
Stacey Asher, who teaches Geometry, Algebra 1, and Algebra 2 at NP3 High also communicated a positive experience.
"It was quick and easy! The vaccination site was very well organized and the people were very friendly. After I was given the shot, many people came over to check up on me to make sure I was feeling okay," said Asher.
All of the teachers agree the vaccination clinics have been very efficient.
"It was pretty well organized and a very easy going experience. I even got a lollipop and sticker after my first shot! I haven't had a lollipop since I was in 6th grade," said Chan-Artiga.
"The experience was a very smooth and easy and emotional one. I got mine at Cal Expo. There was a huge sense of relief and gratitude for the military members/medical staff who helped. Everyone was happy and helpful," said Peter Riehl, who teaches Spanish I and II this year, and English 10 and 11 in past years.
The NP3 High teachers are grateful to receive the COVID-19 Vaccine.
"I feel lucky to have received the vaccination. I hope everyone can access it soon" said Asher.
"If you have the means and the opportunity to take it, I would encourage you to," said Chan-Artiga.
"I brought a bunch of Girl Scout cookies to the armed service members who were working at the vaccination clinic. It is really impressive to see how well they are carrying out this important job, and I wanted to express some gratitude. Make sure to thank the people working! They really appreciate it," said Rice.
Teachers advise those getting the vaccine to plan for a light schedule the following day.
Chan-Artiga advises to take the rest of the day off and find a restful activity to do like reading a book or watching a movie since the body might experience some side effects.
"I would tell them to take the rest of the day off and find a restful activity to do like reading a book or watching a movie since their body might experience some side effects," said Chan-Artiga.
"Be sure to plan an easy night and next day for yourself just in case you have side effects," said Asher.
Durham also advises to plan a day where you can reduce your activities if you end up feeling tired or ill and to get vaccinated when you can.
"Get vaccinated when you can! Be persistent about getting an appointment," said Durham.
"I would suggest still following CDC guidelines, I don't think we're completely out of the woods just yet," said Hembree.
Planning ahead is recommended when getting the COVID-19 vaccine.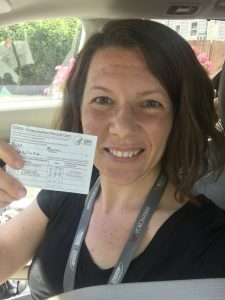 Osborn advises, "Plan ahead before your appointments so you can lay low if needed for a couple of days after the second dose. Get the shot in your non-dominant arm so the sore shoulder won't be as noticeable. Continue to wear a mask and practice social distancing until far more people have been vaccinated."
Vaccine effects vary from person to person.
"I would recommend trying to get it done when you don't have anything important to do on the next day. People react differently to it. I have family members who felt like they had a 24 hour flu and just stayed in bed, others who experienced zero side effects," Rice said.
Getting vaccinated for COVID-19 helps keep our community safe.
"I would encourage anyone to get the shot, as you are helping our world get back to normal sooner than later, and more importantly, you are protecting your mom, your dad, your grandma, your grandpa, and your community, including those who don't have the luxury of working from home," advised Riehl.