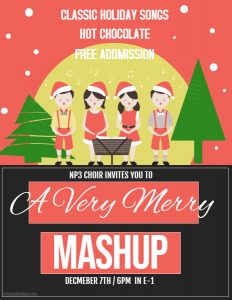 By Mickaela Del Pozo
Staff Writer | The Pacific Times
The NP3 High School Choir will perform songs from different genres along with classic Christmas carols in their concert "A Very Merry Mashup" this Friday, Dec. 7.  
The concert will be held from 6 p.m. to 8 p.m. in Room E-1. The concert is open to the public and admission is free.
The choir will perform songs as a whole and some students will perform solos and group ensembles during the seasonal and mashup sections. The seasonal section of the concert includes performances of Christmas carols like "Carol of the Bells" and "Winter Wonderland." The choir students worked together to create their own mashups of songs from a variety of genres for the mashup section.
NP3's Choir holds a winter concert every year to highlight the choir students' hard work and accomplishments. This year's choir group is the largest NP3 has ever had. The concerts give choir students the opportunity to express themselves through music and spread the holiday cheer with their voices.
Melissa Ciubal said she and her choir students hope to connect with the audience to feel the same joy that the choir feels as they sing. 
The choir plans to carol to NP3 high school classes during second period and advisory throughout the week to give students a sneak peak for their upcoming concert.
Snacks and refreshments will be sold in Room E-2.