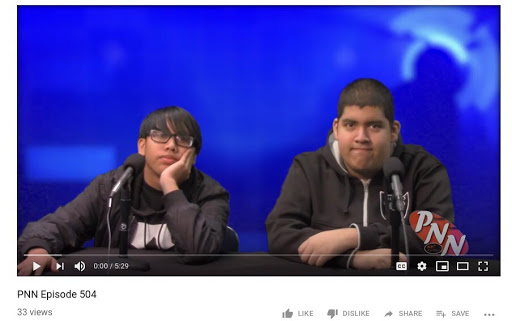 By Maisha Mostafa
Staff Writer | The Pacific Times
The TV and Media Production class enters into the production of their fifth season.
NP3 High implemented a TV and Media Production class into the high school curriculum to expose students to the communication style of television and film.
The TV and Media Production class runs a YouTube channel known as the Pirate News Network, or PNN. The students learn components used in television production during each term, including the basics of screenwriting and video-editing techniques.
On campus, most students are familiar with the PNN episodes. Within their PNN episodes, the student anchors discuss current events happening on campus and around the world, occasionally making a few jokes here and there.
"The PNN episodes are more entertaining than just reading the announcements," says Melissa Mangornong, a junior.
But that's not all the TV and Media Production class produces.
In their short films the students portray their storytelling abilities. Their latest short film is "Escape Room" (https://www.youtube.com/ watch?vani XGnP), which details what happens when you build an escape room for your friends.
"Whenever we made a short film, we would sit down and talk about ideas together and run it by Mr. Branson. It would take about a week to finish the film," said Jasmine Holland, a junior, who took it during her sophomore year.
"When making a short film, it was the time to work as a team and be open-minded, collaborating on each other's ideas," added Holland.
On their YouTube channel, there is a variety of short films. They have short films that advertise products like slime in "Advertisement: SLYME!" and films that spread awareness on issues like Sleep Deprivation in "PSA Sleep Deprevation." They also have short films like "The School" and "Dance Moms 2 0", based off the famous TV shows "The Office" and "Dance Moms."
"It was really fun making 'The School' because it was based off on one of favorite shows, 'The Office'," said Holland.
"After some more projects and tests, the students will get into groups and start making films in late February or March," says Robin Branson, the current TV and Media Production teacher.
The TV and Media Production class is taught in D-3, located in the computer lab. If you have an idea or want to contact PNN for any news that you want them to cover, contact Robin Branson at [email protected].
And be sure to check the upcoming content with their new TV and Media Production class on their YouTube channel, NP3 Media (https://www.youtube.com/channel/UCe6SB-nwCgdHMa92l chqeQ).