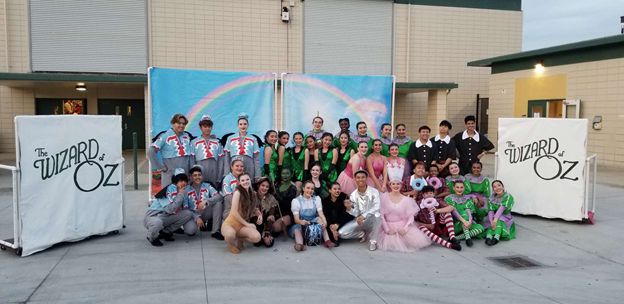 By Zara Afridi
Staff Writer | The Pacific Times
NP3 High School's Dance Team kicked off their first competition of the season on Saturday, Jan. 26 in San Jose.
NP3 High's dancers perform many times together throughout the year. All of the dancers said they felt excited, motivated and confident to win.
"The newly joined members are feeling a little more nervous than excited, but when they actually get there, their moods can automatically change to either being more nervous or excited based on how they feel," said dancer Justine Arizabal, a junior. "For old members, they already know how the bar is set and already have an idea of how intense the competition is."
The process for the dance competitions takes a lot of practice. The team practices three to eight hours a week. None of the practices are during class hours, so all practices are done outside of school hours. 
The team competes in five categories: Military, Dance/Drill, All male, Small Hip Hop and Novelty. For their competition on Jan. 26, the dance team performed their "Military" style routine. The male team performed hip hop. The dancers also performed in a new category called "Novelty" in which they tell the story of the "Wizard of Oz" through dance. 
After the competition last Saturday, the dancers had many mixed emotions.
"The dancers were crying but also extremely happy and the best part was cheering for their other team mates," said dancer Meghan Chang, a junior. "The new members loved how it went and thought it was an amazing experience and they can't wait for the many more competitions coming up."
In the end, the NP3 team won first place in military and hip hop, first place in all-male team, first place in the novelty category and second place in dance drill.
The next competition will be held on Feb. 2 at Bella Vista High School.
The dancers added, "All of us are ready and excited for the next competitions coming up!"