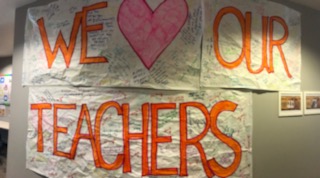 By Kimberly Chouang
Staff Writer | The Pacific Times
NP3 students celebrated their teachers and staff from May 6 to May 10 for Teacher and Staff Appreciation Week.
NP3 elementary students showed appreciation with daily gifts for their teachers and staff throughout the week. Parents also took NP3's staff on a
World Tour of Flavor by making or buying a specialty dish for them to enjoy throughout the week.
Monday's gift for staff members was picking a favorite book was a special note inside and was also the continental breakfast for the staff.
Students brought flowers to school and parents had food for a classic potluck for the staff on Tuesday.
On Wednesday, teachers and staff received school supplies that have disappeared over the school year from their students and sweet treats from the World Tour of Flavor.
Thoughtful, creative cards were handed out to the staff made by elementary students and a Fiesta Lunch was hosted by NP3 parents on Thursday.
Lastly, the elementary students wrapped up Teacher and Staff Appreciation week with a staff member's favorite object/item and with the taste of India and Asia.
The NP3 boosters also held a lunch for the teachers and staff on Thursday after school for the high school and middle school.
Remember to thank your teachers and staff for getting you through the school year and for their hard work!