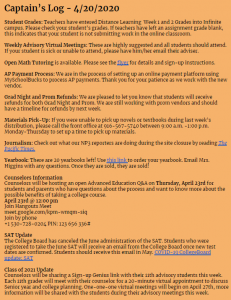 By Chim Unanwa 
Staff Writer|The Pacific Times 
All three NP3 schools resumed with online classes on Tuesday, March 31.
Since then, NP3's teachers have added their students to classes on Google Classroom, where they can assign classwork and provide material over the internet.
Just like before school site closures, students are expected to complete their work on time. Due to guidance from the California Department of Education, students' grades cannot be lowered until distance learning ends.
"From what we know right now, our schools will be closed longer than we originally thought, and it will be best if our schools are prepared for that extension, by having their distance learning models prepared to go until the end of the school year," said Tony Thurmond, state Superintendent of Public Instruction.
Students and parents are emailed the Captain's Log, a new weekly newsletter for NP3 High School. Written by principal Melissa Mori, the newsletter has updates on academics and other school-related topics such as prom refunds and yearbook distribution.
Every teacher has office hours, during which students can directly meet with their teachers and ask questions. Office hours are held once or twice a week depending on the teacher and class.
Students may also reach their counselors through a Google Form posted on the Captain's Log.
NP3 High allowed some students to stop by the campus to pick up Chromebooks and materials for specific classes such as physics and calculus.
"Given the short amount of time we had to prepare, I think the transition has been very smooth", said Mori. "Teachers have learned new technology and we have connected with every student to make sure they have the resources they need to continue the learning process."
View the Captain's Log here.