By Paloma Beltran
Staff Writer | The Pacific Times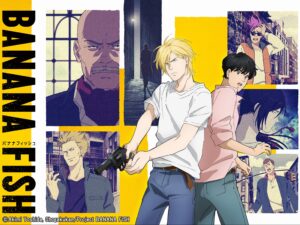 Not all stories have happy endings and this story is certainly no exception.
If you want a show that will pull you in from the first episode and then spit you out, having you crying hysterically by the last then I recommend you watch Banana Fish.
Banana Fish is based on the shoujo BL (boys' love) manga written by Akimi Yoshida from 1985 to 1994. The anime adaptation was released in 2018 and it sets the scene in 1973 New York, following the life of Ash Lynx a 17-year-old boss of a street gang, where one day a man entrusts him with something that will flip his world upside down and into a game of life or death.
Ash then has a destined encounter with a kind Japanese boy named Eiji, who is a camera man's assistant, who is visiting New York. Together, they tried to solve a government case that revolves around a weaponized drug dubbed 'Banana Fish'.
The best parts of Banana Fish are the character development, the showcasing of the character backstories, and showing that not every show has to have a happy ending. The fact that there are no plot holes also made the show so much more enjoyable and easy to watch.
Although Banana Fish is an excellent show, there are some cons, such as not providing the aftermath of the closing events for the last episode and the show ending too fast, in my opinion.
Banana Fish is one of the tear-jerking animes and overall shows that I have ever seen, so it's definitely a must-watch if you want to sob like a child for days on end.
If you're trying to get into watching anime and enjoy the action with a sprinkle of romance and a splash of gore, you should also give Banana Fish a try.
All in all, I give this show 9/10 on the overall plot, characters, EVERYTHING! Sa-yo-na-ra !
---
Warning before watching this series is rated 13+.