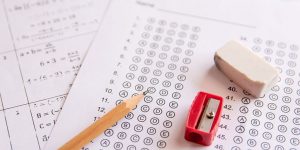 By Chim Unanwa
Co-Editor | The Pacific Times
A school day SAT exam will be held for NP3 seniors who plan to apply to four-year colleges this year.
The exam will be held on campus on Wednesday, October 14.
While the SAT normally costs up to $52, this exam will be paid for by NP3 at no cost to the students. Seniors can apply for it by completing a Google Form in their advisory Google Classrooms.
On test day, social distancing guidelines will be enforced to reduce the risk of COVID-19 exposure and spread.
"The SAT will be on campus with social distancing," said NP3 counselor Lindsay Ulrich. "We'll be making sure that the seniors are all seated at least six feet apart, and following the guidance from the county to make sure we're all as safe as possible."
Ulrich explained that many seniors had said they wanted to take the SAT this year, but the cancellations of SAT tests due to the COVID-19 pandemic made it difficult.
The school day SAT at NP3 will allow those seniors to take it without any scheduling or financial worries, she said.
Although students may still take the SAT, the exam will not be required when applying to University of California admissions from Fall 2021 to Fall 2024, and the test will be completely phased out by Fall 2025. A new college entrance exam meant to more accurately determine if students are ready for college is planned to replace the SAT.
Khan Academy offers free SAT practice to anyone with a Khan Academy account. The practice is based on students' PSAT scores or a diagnostic test, which allows them to catch up in areas where they're struggling.