By Krista Chouang
Staff Writer | The Pacific Times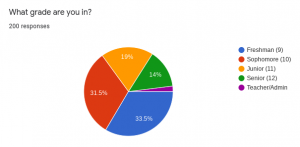 When asked who they would vote for in the 2020 election, most NP3 High School students and staff support democratic presidential candidate Joe Biden, according to an online poll conducted by The Pacific Times.
Around fall break, a poll was sent out to most advisory classes asking students' opinions about the 2020 election and the final two candidates, Joseph Biden and incumbent President Donald Trump. The purpose of the poll was to gauge NP3 High's position on the election as well as the reasons for supporting specific candidates.
The poll received 196 responses from students as well as four from teachers for a total of 200 responses. There are 639 students at NP3 High School.

The most responses, 33.5%, were from freshmen, 31.5% were from sophomores, 19% from juniors, 14% from seniors, and 2% from teachers. The large percentage gap between the lower two grades and the higher two grades may be due to junior and senior class being focused on SAT testing, midterms, and senior project presentations at the time of the poll.
While results may reflect the opinions of the NP3 High population, it is important to note that 69.3% of students didn't respond to the poll.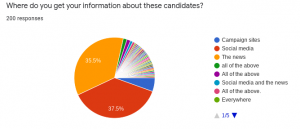 When asked which presidential candidate they would vote for 57.5% of students chose Biden, 5% chose Trump, 26.5% chose not to vote at all, and 11%, 22 people, wrote in candidates of their choice. Ten people said they would prefer to vote for Bernie Sanders, the democratic socialist candidate who ran for both the 2016 and 2020 elections.
Other responses included answers such as minors shouldn't worry since they aren't anywhere close to the age of voting, they wouldn't settle for either candidate, and they are not educated enough to have a solid opinion. Two students said they would vote for third party candidates Jo Jorgenson from the libertarian party and Howie Hawkins from the green party.
Out of the 200 responses, 115 voted for Biden.
"I would vote for Joe Biden simply because I feel like Biden's political beliefs align more with what our country needs right now," said one freshman. "He has reasonable plans for how to improve our healthcare, education, and economy, and has expressed interest in switching to clean sources of energy in order to combat climate change. He wants to support the middle-class and not only focus on benefiting the wealthy. He also supports LGBTQ+ rights."
According to survey responses, other Biden supporters cited similar ideas.
However, many Biden supporters who participated in the poll were not overly enthusiastic about their candidate choice, saying that he is just better than Trump, and that we cannot afford another four years with the current president.
Those who took the poll and opposed Biden cited his unreliability as being worse than Trump's, has democratic, non-Christian views that include being pro-choice and allowing same-sex marriage, and his movement and speech seem to be negatively affected by his old age.
Out of the 200 responses, 10 students voted for Trump.
Students who chose Trump in the online poll said they would vote for Trump because he is Republican, Christian, has good views on family life, is "real," knows how to run a business, made America great, and one student reasoned that if the fake news was actually true, then Trump wouldn't have become President in the first place. Most said they voted for him because he is better than Biden overall.
When asked where they got the information that decided their vote, most students chose social media, the news, or both. Other sources include campaign sites, family members, friends, multiple of each.
"Actual reliable unbiased sources, like .gov or .org websites, and even then I can detect biases or misleading titles and information," said one freshman who took the poll. "I make my own opinions without any injection of someone else's opinion into the information."
Predictions on the outcome of the election were divided.
"This election sucks. The two people running for president both suck. It is just a matter of deciding who sucks less as well as which party you identify with," Said one senior, "Hopefully in the future, we will have better representatives to run our country."