By Nathan Gonsalves
Staff Writer | The Pacific Times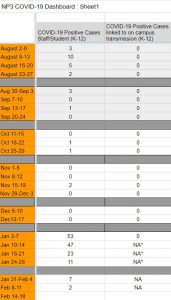 The Natomas community, including NP3, saw a rapid increase in COVID-19 following the holidays cases, according to the data.
"If you look at the county's (COVID-19 cases), they have almost tripled in three, four days. I expect to see the same thing happen in schools," NP3 executive director Tom Rutten told The Pacific Times on Jan. 5.
Rutten is the COVID-19 testing administrator along with NP3's deputy director Sharon Maccini, NP3 High principal Melissa Mori, and NP3 High counselor Navjot Hayer.
As Rutten predicted, a record high number of cases at 53 among students and staff was reported on Jan. 7. This was a 530% increase from the previous high reported during the week of Aug. 9, 2021.
"Because (the Omicron variant of COVID-19) is so contagious it spreads very easily. Omicron was able to infect a lot of vaccinated individuals unfortunately, " Mori told The Pacific Times on Feb. 14. "I think the surge had to do with the timing of it. It was winter, it was (the) holidays, a lot of people gathering and mixing with people that don't always mix with, and the omicron variant."
In the weeks since students returned to campus following winter break, the NP3 dashboard shows that cases have been reducing all the way to zero.
"Cases have been dropping significantly, especially on NP3 campuses. Last week the middle school and high school did not have any positive cases on campus," Mori said.
The NP3 COVID-19 dashboard was set up during the week of Monday, Aug. 30, 2021. It replaced the system in place at the beginning of the year when emails were sent out to parents every time a positive COVID-19 case was reported to the school.
Prior to the winter break, NP3 provided families with at-home testing kits. Students and staff were instructed to test themselves before returning to campus on Jan. 3. At home testing kits continue to be provided when the school is notified that a student has COVID-19 symptoms. Students are expected to test negative for COVID-19 before returning to campus.
According to some students casually polled by The Pacific Times, the increased absences due to COVID-19 were most noticeable in the advisory classes.
Ryan DeCaso, a sophomore at NP3 High said he was concerned about the rise in COVID-19 cases. He said he "felt more at risk" when his friends tested positive for COVID-19. He stayed at home despite not having COVID-19 himself. Other students did this as well.
Students like NP3 junior, Tatiana Segura were among those who caught the virus. She told The Pacific Times on Feb. 4 that the students who were at school were protected because they were "all masked up and most of (them) are vaccinated."
She said she feels NP3 could better prepare for possible future spikes by improving sanitation efforts such as "wiping down the desks and the bathrooms or the supplies that teachers use."
"I think, as a school, we have done a good job of wearing masks," freshman Alex Lao.
However, Lao said a student in his advisory caught COVID-19 which prompted him and others to get tested. He managed to avoid the virus during the spike and didn't miss any school, adding that the material covered during some of his classes changed to accommodate those students who were absent.
Currently students are required by state mandate to wear masks while at school. State officials said they will revisit the indoor mask requirement for students on Feb. 28.