By Tahasin Rahman
Staff Writer | The Pacific Times
Seniors Rudy Chavez and Sukhman Singh have implemented a bike-sharing program at NP3 for their senior project.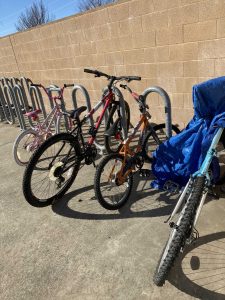 A few things have changed since their junior year when Singh and Chavez first developed their project idea, but the pair have completed their project.
The biggest change is the removal of a software system to track bicycle borrowing. Instead, the sign-out process is done on paper in the front office. It is in the office where students can check out a bike by signing their name on a liability form.
Singh and Chavez said four bikes are ready to be checked out and they are stored in the bike stands to the left of the office. Upon checkout, students will get a bike lock. After that, the student can use the bike for the rest of the school year until June 2. If students wish to return a bike earlier they may do so.
"Due to time constraints as well as budgetary restraints, we decided not to implement software at all," Chavez said, "In fact, the elimination of software made the sign-out process a lot easier and secure, since students would have to go through the office to check out a bike, and requires no Wi-Fi or internet connection to checkout."
Borrowing a bike is completely free.
"Students will have to take responsibility for any injuries or broken/lost parts. There is a liability form for a reason and they should use common sense using the bikes we provide," Singh said.
According to Chavez and Singh, many students still do not know about the bike-rental system and its process.
"Despite Sukhman and I going to every classroom, and having student announcements, hardly anyone knows about the program we implemented," he explained. "We plan to fix this issue in the future. For example, we plan on displaying our bikes to students."
"The more bikes we have, the more students can ride them!" Chavez added. "We already have some eager teachers who are willing to pitch in more bikes into the program, all we have to do is get them a lock and label."
The senior pair hope to find a student or students to continue their project after they graduate.
"If there are any juniors interested in making climate change or fitness their senior project, our bike program would be a great way to make an impact," Chavez said.
For further information, contact Rudy Chavez at rc3101@nusdk12.org, or Sukhman Singh at ss9681@nusdk12.org.