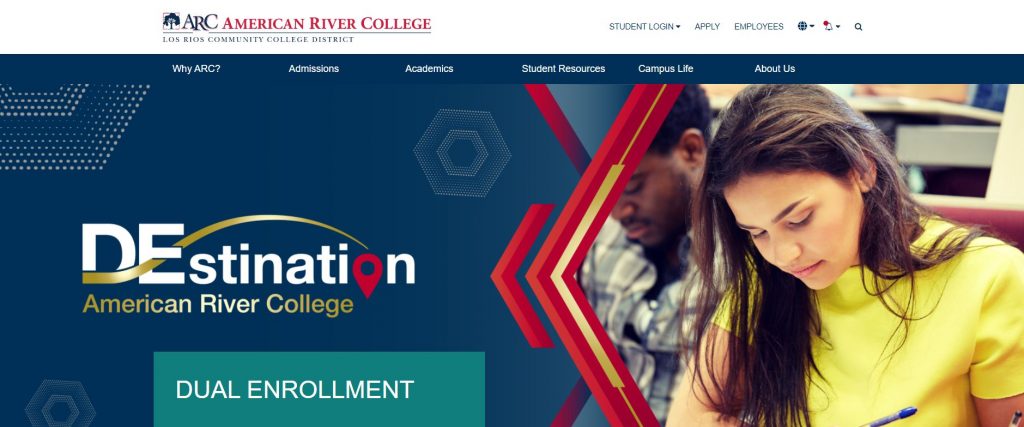 By Isabella Bravo
Staff Writer | The Pacific Times
NP3 High offers students a chance to earn college credits while still in high school and meeting high school graduation requirements at the same time.
College credit is earned through partnerships with American River College and Sacramento State University.
Dual enrollment students are able to take college level classes at American River College. Current freshmen and sophomores are able to take a dual enrollment prep course to prepare them for college-level classes.
The ARC classes available for the 2022-23 year are Introduction to Dual Enrollment, College Composition, Advanced Composition and Critical Thinking, Introduction to Probability and Statistics, Introductory Statistics for Behavioral Sciences, World Music, College Success, Psychology General Principles, Introductory Sociology, Nutrition, Health Science.
Senior Jasmine Phommasack, who has taken several ARC classes, says her experience with dual enrollment was confusing but taught her responsibility. She first decided to take ARC classes to get her visual and performing arts credit.
"In the beginning, I was extremely confused with the layout of online classes. However, everything was pretty straightforward once I became accustomed to it," Phommasack said.
She believes dual enrollment is a great opportunity for students to "further their education" with no cost.
"You will have more freedom to choose what classes interest you as well as choose your professor," she added. "I enjoy taking college level classes because it allows me to work at my own pace and it is flexible."
ARC's courses are dependent on students being able to work on their own. Using the Los Rios Community College District's learning management website called Canvas, students can communicate with their professors. NP3 High teachers are also available on campus to help students communicate with their professors and complete their assignments on time.
"More than anything it's really exciting to see so many of our students performing on that college level," said Karen Rice, a supervisor for dual enrollment classes at NP3. "For the most part it's been generally a good, really good experience and opportunity for students to work at an accelerated independent level."
Rice oversees a dual enrollment course during which students come to her classroom multiple times a week to work on their assignments. Students are also able to come to Rice with questions and she will help them contact their professor.
"I think the biggest difference is really for the students because the amount of reading is potentially much greater and the amount that they need to be able to read and comprehend on their own without that teacher explaining the concept," said Rice.
Rice said she believes students are forced to learn responsibility and be independent through taking college courses. She says the biggest thing for students is the amount of learning they are required to do on their own.
New to dual enrollment, freshman Harseeret Kandola says her experience so far was surprising due to the college-level grading process.
"Learning how the grades are actually gonna affect your college grades, that actually started to hit me," she said.
Rice added that a lot of being in dual enrollment is knowing how to manage your time.
"The assignments follow a pattern, the professors don't usually stray from week to week on the kind of assignments they're giving," said Rice. "So once you kind of figure out the rhythm of the course, you're generally pretty good."
When it comes to dual enrollment classes, Principal Melissa Mori advises, "Don't overload yourself the first time through it so you get comfortable in the system and understanding the process. You need to be self motivated because there's more put on the students."
Those in the dual enrollment and Accelerated College Entrance or ACE program are also able to connect with counselor Lindsay Ulrich for extra assistance.
Ulrich explains the difference between ACE classes and dual enrollment courses.
"ACE classes are Sacramento State classes that are taught by our teachers here on campus," she said, adding the classes are a good opportunity for students "to get ahead of their classes and to get an idea of what college classes are like while still in high school."
The ACE classes currently available are ACE Physics and ACE Engineering.
Ulrich encourages students to talk to their counselor about classes that are right for them.
"Don't take a class you feel you aren't prepared for. Then you can always talk to your counselor about whether you think it's a good fit or not." Ulrich said. "It's up to the individual student and if they see a class they're interested in and they think would be a good fit, you can talk to your counselor about it, you can talk to families about it."
Credits earned through dual enrollment and ACE courses can transfer to UC and CSU colleges.
Ulrich said this is a benefit for students.
"So even if you're not planning on going to a community college right after high school, these classes still go with you."