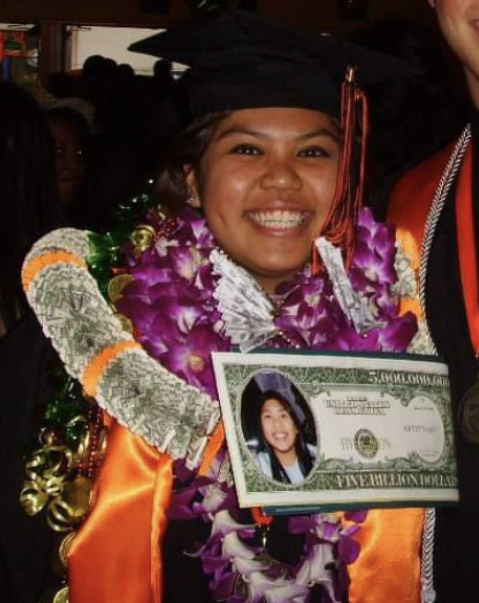 By Marcos Mendoza Pulice
Staff Writer | The Pacific Times
This is Rebecca Caladiao's first year teaching – and it's at her alma mater.
The former NP3 High student and 2011 graduate, Caladiao currently teaches English 10, study skills and co-teaches Student Government.
Caladiao decided to rejoin her old school because she was once a part of the NP3 community and loved the education that it served. According to her, NP3 has a unique style of teaching that you wouldn't find anywhere else in Natomas.
"NP3 staff and students really value relationship building in a different way than other schools, and provide a smaller, more tight-knit community in which to foster those relationships," she said.
Growing up, Caladiao recalls her life being rebellious and energetic. She said she faced the challenges of doubting herself while simultaneously being confident and prideful in her efforts.
Caladiao said "Go after what you want and apologize later" is her life strategy.
Lots of responsibilities and expectations were obstacles in her way but Caladiao still did her best to pursue them and even now faces these roadblocks. Sheis also the first person to graduate college in her family and felt the pressure of graduating.
"My motto of 'ask for forgiveness, not permission' perfectly encapsulates my idea of a growth mindset, with my rebellious 'Rebecca' twist," she said. "My motto has definitely gotten me in trouble in life, but it's also provided me with adventures and opportunities I wouldn't otherwise have been able to access if I asked for permission first."
"I believe that we can learn more from failures than from success, if we notice and allow that to happen, and this motto is not only a reminder of that, but a reminder to also be true to myself."
Caladiao got her associate of arts in Communications from American River College, her bachelor's degree in English Subject Matter from CSU Monterey, and her English teaching credential from UC Davis.
Returning to NP3 made her feel intimidated by the community and her job's expectations but is excited for the future. She stated that the staff are welcoming people and she loves the students.
Caladiao enjoys playing board games in her free time and is the advisor for the S.W.O.R.D Tabletop Games club. She also enjoys comedy, crabbing, camping, and watching reality TV. She said she especially enjoys RuPaul's Drag Race.