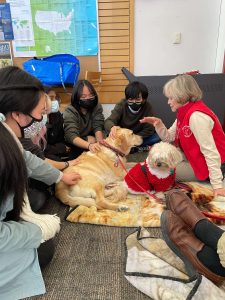 By Leila Pabst
Staff Writer | The Pacific Times
Seniors brought therapy dogs on campus to tackle stress experienced during finals.
Seniors Jolene Phung and Itzel Castellanos hosted an after school dog therapy session in the library for all students on campus during finals week back in December. As part of their project, they collaborated with Lend A Heart which has been providing animal-assisted activities, education, and therapy services.
Most high school students have experienced stress during finals in which bringing pets to campus allows students to decompress. The unconditional love offered by an animal, coupled with their non-judgmental attitude, make them ideal participants in emotional and physical therapy. 
When asked about how the event went, Phung says, "I'm really happy with how the event turned out because there were so many people that came to see the dogs to relax and de-stress for two hours."
Phung even conducted responses of students who attended the event asking about their stress levels before and after the treatment.
When asked about how therapy dogs differ from others, Phung says. "Compared to most dogs, therapy dogs are different from other dogs because they must be tested and qualified to be affectionate, gentle, and safe when interacting with people they come in contact with. It is in their job description to be friendly and reciprocate affection to getting petted." 
Phung mentions how thankful she is for our school's administration, Lend A Heart, and Key Club volunteers for helping us make this possible!