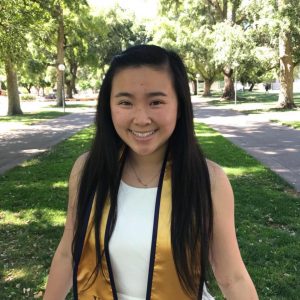 By Kimberly Chouang
The Pacific Times
Teresa Huang continues to succeed as an individual who has gone through many difficulties that high school students are familiar with: the trouble of choosing a major, the desire to cling onto her childlike traits and the feeling of loneliness. She's more like us than you think!
Teresa Huang is a new student biology teacher at Natomas Pacific Pathways Prep that most students have yet to meet. She is currently enrolled in a teaching course at UC Davis while teaching her own third period biology class at NP3. You can find her in room F-1 with Daisy Vallesfino helping out and interacting with the students.
Huang majored in chemistry and recently graduated from UC Davis. Her first few days as a new teacher were kind of slow, but she started to get comfortable after getting to know the students of NP3. The students made class interesting and showed Huang that the teens were more similar to her than she first thought.
Like many NP3 students, she relates to the trouble of choosing a college major and whether or not to move away from home.  Huang chose to study chemistry because of the influence of her grandfather who liked the subject. When she first took chemistry in college, it was hard for her and she disliked being alone in a lab all day. While studying chemistry, she considered becoming a food or candy chemist. However, she did not take that path because of her location. Instead, her interests steered her toward teaching out of her love for the classroom environment and interacting with people.
Relating to Huang is easy because she considers NP3 students to be more like her than not. She tries to hide her lazy side and finds it difficult to get to bed early. Huang is a lover of dogs and other cute animals, and welcomes people to show her cute animal pictures. She also happens to be a big fan of Riverdale and is an even bigger fan of Nintendo. She especially loves Pokemon, and as well as other topics, so feel free to talk to her about a few interests you might have.
Teresa Huang is a relatable person who has persevered through the hardships of both high school and college. She continues to work hard and improve. She laughs easily and has a warm, welcoming personality. If you want to ask her any questions about her experiences, feel free to contact her at [email protected].