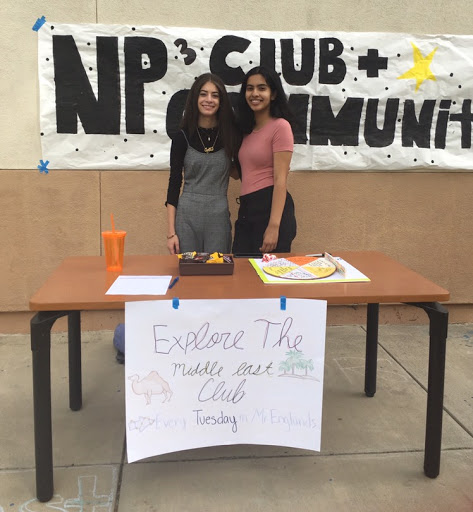 By Jasmeen Ghuman
Staff Writer | The Pacific Times
If you are interested in learning about the different parts of the world, the Explore the Middle East Club will give you an inside scoop into the beautiful cultures and languages that are embedded throughout the Middle East.
This club is led by Hadeel Zidan and supervised by Larissa Hamdy and myself, Jasmeen Ghuman. Zidan looks to carry on the club after her older sister Saja Zidan, who previously led the club. Zidan said, "We are looking to represent the minority of Middle Easterners that roam the campus of our school. Natomas Pacific Pathways Prep is a very diverse school filled with students from many beautiful backgrounds and we believe it's important to learn more about where all of us come from."
For as long as the Explore the Middle East Club has been held at NP3, many videos and documentaries have been shown about Middle Eastern culture. There are fun-filled days where club members bring in different foods that can be found thoughout the Middle East. The club also gets involved in the community by finding ways to help Syrian refugees, such as presenting goodies and other necessities to the refugees when they arrive at the airport.
The Explore the Middle East Club is not limited to students of a Middle Eastern background, and neither are the activities that take place in the club. We will always find a way to include and showcase the other cultures that our members identify with. This can include bringing different food from your own background, wearing clothing of your culture or days where we focus on learning about our members' backgrounds.  
If you are someone who sees the beauty of the world through its many different cultures, this is the club for you.
Club meetings are held on Tuesdays in Mr. England's room (B-4) during lunch. For more information be sure to contact Hadeel Zidan: [email protected], Larissa Hamdy: [email protected] or me (Jasmeen Ghuman): [email protected].