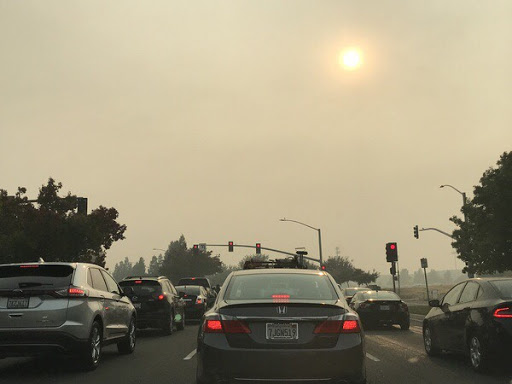 By Mickaela Del Pozo
Staff Writer | The Pacific Times
Natomas Pacific Pathways Prep and all other schools in the greater Sacramento area have canceled classes effective Nov. 16 due to the hazardous air quality conditions. 
"After careful consideration, Natomas Unified School District officials have made the decision to close all schools, including charter schools, effective Friday (Nov. 16)," said a statement issued by the school district at 2:55 p.m. Thursday, Nov. 15 via voice message and email to all families in the district.
Air quality continued to decline in the Natomas area as a result of smoke from the Camp Fire out of Butte County, north of Sacramento.
The Natomas district joined San Juan Unified, Elk Grove Unified, Twin Rivers Unified, and Sacramento Unified schools districts which also announced Thursday afternoon that schools would be closed Friday. Folsom Cordova Unified School District had canceled classes earlier in the week.
A statement from Natomas Pacific Pathways Prep said, "All three NP3 schools and MAP (after school program) will be closed tomorrow (Nov. 16)."
"To ensure the nutritional well-being of our students tomorrow while at home, the district's Nutrition Services team will distribute prepared meals for students at the Natomas High School cafeteria and the Inderkum High School cafeteria between 3:30 p.m. and 5:00 p.m. this evening (Nov. 15)," the school district statement added.
Earlier in the week, members of the Natomas school community also took action to address the poor air quality. For example, the Inderkum cross country team moved their practices indoors to treadmills at California Family Fitness. Inderkum's playoff football game, originally set for Friday, Nov. 16, was also postponed a week, according to Natomas school board president Scott Dosick.
On Nov. 15 the air quality in the Sacramento area again reached 201 AQ, or "very unhealthy" level, according to the Sacramento Metropolitan Air Quality Management District. With the current air quality conditions, the air quality district recommends people in the Sacramento area to avoid all outdoor exhaustion. The smoke will continue to spread throughout the week in the Sacramento area, the district said.
The Sacramento County Department of Health Services earlier in the week advised that all students stay inside when smoke is seen or smelled, according to an announcement it issued on Nov. 12. Officials also recommended schools to keep windows and doors closed during this time. Outdoor activities such as physical education were held indoors or canceled to avoid the current air quality, according to the Natomas Unified School District.
To stay updated on the status of the smoke in the Sacramento area, more information can be found at http://www.airquality.org/Air-Quality-Health/Climate-Change/Public-Outreach/Wildfire-Smoke-Information.