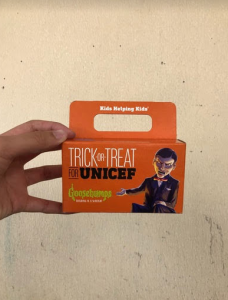 By Kimberly Chouang
Editorial Assistant | The Pacific Times
From Oct. 24 to Oct. 30, Natomas Pacific Pathways Prep's UNICEF and Key Club collaborated for the Trick-Or-Treat Fundraiser to help children around the world and to talk about why they are collecting donations to raise awareness about the lack of resources and access given to children.
This fundraiser allowed students to donate coins and cash to small orange boxes in the high school classrooms. All of the donations will then be collected and forwarded to the UNICEF non-profit organization and used to help children around the world. Last year, only NP3's UNICEF club did the Trick or Treat Fundraiser event as a competition between NP3 high schoolers and raised $367.74. This year, the NP3 high schoolers raised $204.09 in total from the high school, $163.651 less than last year. NP3 UNICEF has also partnered with the NP3 middle school, carrying out a separate TOT fundraiser with them.
"This [fundraiser] is a great opportunity for the NP3 community to recognize how close we are with our opportunities to build our global community." UNICEF's Vice President and Key Club's co-leader Charles Paltzer said, "This event is excellent for opening up our perspectives and making [us] aware of what should be appreciated." In other words, this fundraiser notifies people that are donating about how easy it is to reach out and help.
This event is part of a worldwide fundraiser, so the money raised will be distributed to a number of places. For example, this year, some money will go towards the Syrian Refugee crises to help migrants get food and the other money goes towards helping the over 190 poverty-stricken countries get access to clean water. Last year when Hurricane Harvey hit, UNICEF, the non-profit organization, was there to help with their donations raised by its clubs around the world.
UNICEF and Key Club plan to hold more fundraising events so keep an eye out for those! To learn more about NP3's UNICEF Club, click here.