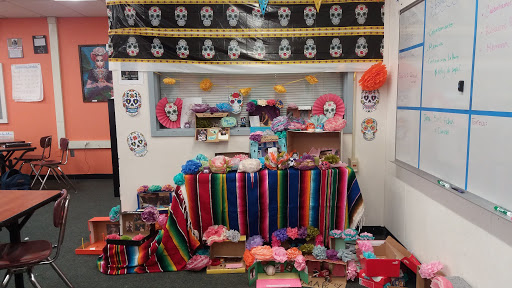 By Maisha Mostafa
Staff Writer | The Pacific Times
An annual celebration came to the NP3 High campus called Dia de los Muertos. The Mexican tradition, Dia de los Muertos, otherwise known as the Day of the Dead, takes place in Latin culture on Oct. 31 through Nov. 2. It was created as a reunion between family members and their deceased relatives' spirits.
This Latin tradition has been practiced for generations, dating back to the 16th century and originally lasted for a month. However, when Spanish conquistadors arrived in Mexico, they wanted to convert the indigenous population of Mexico to Catholicism. The conquistadors denied the indigenous population the right to practice the tradition until they implemented Catholic aspects to the tradition. As a result, the holiday now consists of three days, All Hallows Eve, Day of All Saints and the Day of All Souls.
The Sabor Latino Club incorporated this tradition on the school campus. The club members built an ofrenda also known as a altar in the photo above just days before Dia de los Muertos. The members placed photos of deceased loved ones on the altar and decorated the altar with flowers, candles and skulls, a important symbol for the tradition.
On Nov. 1., the club celebrated the Day of All Saints, which celebrates the children that were not able to be baptized after passing away. The Day of the Dead was celebrated on November 2nd, which celebrates deceased adult family members. During the holiday, Sabor Latino Club also created a poster outside of Ms. Hernandez's room for all students and teachers to write a short note to any of their deceased loved ones. According to the club advisor, Dulce Hernandez, the intentions of the holiday, "is not to mourn their deaths, but to celebrate their lives."
According to the club advisor, "Although tradition does have some religious tones, it welcomes all cultures to join in the tradition."
Look forward to next year's Dia de los Muertos celebration at NP3!