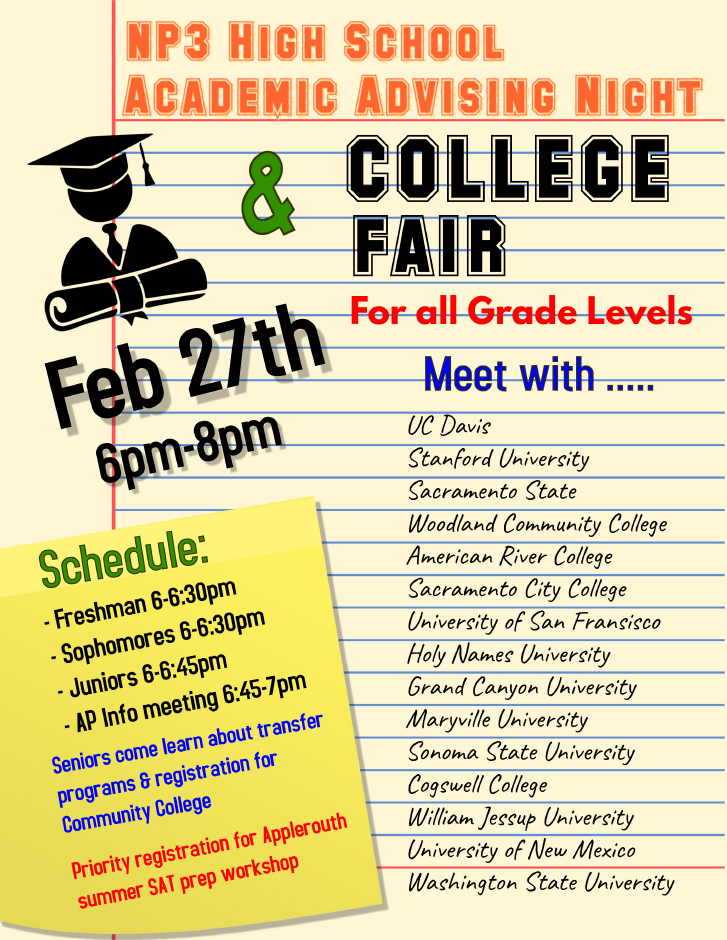 By Zara Afridi
Staff Writer | The Pacific Times
Are you pirates and parents ready to learn more about college and the opportunities they have to offer?
NP3 High School's annual College Fair and Academic Advising Night is scheduled to be held 6 p.m. to 8 p.m. on Wednesday, Feb. 27 in the gym.
The counseling team put the event together for NP3 students and parents and encourages them to attend.
"When considering that each one of of our students spend 65,372 minutes in school each year, it would be careless to not spend 120 minutes the night of February 27 to look ahead to next school year and the path to college beyond," said Kelly Clancey, one of NP3 High School's counselors.
Clancey added, "This event is especially important because of the Academic Advising portion of the night. We think it's very important for students and families to be good consumers and collaborators in making educational choices."
There will be representatives from Universities of California, California State Universities, out-of-state colleges and universities, as well as private and community colleges.
"There will be 15 college reps in total. They are going to be showcasing and representing their colleges, such as requirements and extracurriculars and other interesting facts," said Clancey.
Clancey also added, "We are now so excited to have it on the same night as Academic Advising night to promote students in being self directed in their high school experience and get a better sense of how high school directly leads to their amazing possibilities beyond NP3."