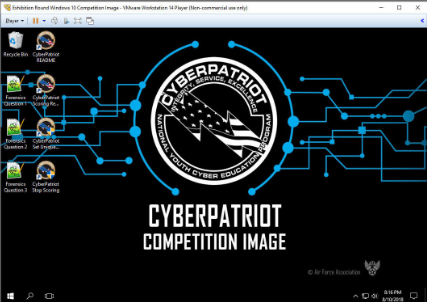 By Kimberly Chouang
Staff Writer | The Pacific Times
The NP3 High School Cyber Patriot Club's competitive season recently wrapped up with the club barely missing a qualifying spot in the semi-finals.
Competing as the Orange Team, NP3's club just narrowly lost against high schools from around the country, two points away from making it to the semi-finals.
Since the beginning of the 2018-19 school year, the Orange Team participated in cyber competitions held over weekends that lasted for about six hours at a time.
"We compete against other high schools in the country in a cyber competition put on by the US Air Force," the club adviser, Donald Lowery, said. "This competition basically involves completing a series of computer related tasks in a specific time frame. Many of the tasks are unknown or mysterious and require a great deal of background knowledge about different operating systems."
Ansh Kakar founded the club in 2016 with the name Cyber Security Club and graduated from NP3 last year. Now known as the Cyber Patriot Club, the club prides itself for being for all students who have an interest in computer science.
"The reason I joined this club was mainly for my resume and to pass time, but once I got into it I became rather passionate about it," junior Li Qi Huang said.
The club focuses on the topic of cyber security. Cyber security is the protection of theft or damage to electronic data. Students use their skills in competitions to complete a series of computer-related tasks in a specific time frame. For example, they find cyber security vulnerabilities and harden a system.
The organization that plans the competitions is called CyberPatriot, a national youth cyber education program that was created by the Air Force Association to get youth interested in computer science and to help direct students towards careers involving cyber security. The organization has been hosting competitions since 2009, offering scholarships and internships to the winners.
"I became rather passionate about learning how to operate computer and learning about the things that you can do to safeguard your time on the computer: removing unauthorized users, removing spyware and etc." Huang added.
The club would often meet on Tuesdays in the NP3 computer lab. During meetings, plans and skills that will be helpful for competitions were discussed.
The club is not currently accepting any new members because the competitive season has finished for the school year. New members will be able to join in the fall of the 2019-20 school year.
Keep an eye out for their club booth this fall if you consider joining! Email Donald Lowery, dlowery@natomasunified.org for any questions. For more information about CyberPatriot, visit their website www.uscyberpatriot.org/ to find out more about their history, impact, other teams around the U.S., and ongoing competitions.