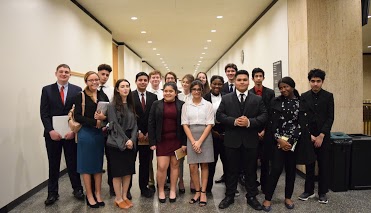 Jakob Franco
Co-editor | The Pacific Times
The NP3 Mock Trial team rears up for another year of competition with auditions on Saturday, May 4. Before then, interested students must take a few steps to prepare.
The Mock Trial teams gives students a fictional case to work with and play the roles of attorneys, witnesses, and even courtroom bailiffs. Team members prepare throughout the school year for eventual competition in February refining their knowledge of their specific roles.
Staci Osborn coaches the team with the help of multiple attorney coaches and alumni of the school. She will be holding tryouts in the coming week in order to assign roles soon and begin training new members as quickly as possible.
The first informational meeting took place on Tuesday, April 24, with Osborn sharing basic info about the team and the next steps for joining. Current team members spoke as well sharing the value they gained from competing on the team.
Official tryout packets were released at 5 pm on Friday evening. There was also a parent meeting Tuesday night to inform them of what they can expect for their child in the upcoming year if they make it onto the team. Tryout packets can be found in Osborn's room or on the NP3 Mock Trial Website at https://sites.google.com/natomasunified.org/np3law/
The tryouts will take place on Saturday, with students delivering different types of speeches as laid out in the packet depending on the role they wish to enter. Students will audition in front a panel made up of NP3 teachers and alumni.  That same evening Osborn will email a preliminary roster with unfortunately some cuts necessary due to constraints on resources.
As one of many seniors on the team leaving this year, I encourage all those with an interest in speaking, arguing, acting, and/or law to try out themselves.