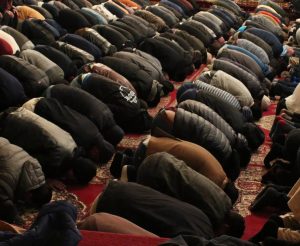 By Maisha Mostafa
Staff Writer | The Pacific Times
For the past 2 ½ months several Muslim students have gathered every week in the NP3 High courtroom to perform Jummah prayer.
Jummah prayer, more commonly referred to as the "Friday Prayer," is considered one of the most important prayers in Islam.
Muslim youth at NP3 High previously were unable to perform Friday Prayer because it conflicted with school times.
In order to tackle this challenge and others, seniors Zoya Rizwan and Ifnan Islam decided to address it as part of their senior projects.
As a result of their efforts, the courtroom has become a place for Muslim students at NP3 to gather to perform prayer during their lunch every Friday since Feb. 15.
Rizwan's senior project focused on the overall Muslim experience while Islam wanted to form a closer Muslim community with fellow NP3 students, similar to the Sikh and Sinigang clubs.
"I wanted to get the Muslim youth on campus together through this project," said Rizwan.
They made it easier for students to practice their faith by providing a spot where Muslim students feel safe to perform their prayers.
As a Muslim, there are challenges in practicing religion openly. After the Christchurch mosque shootings in New Zealand, the Muslim population have increasingly been afraid to attend mosques.
"We worked with the coordinator at our local mosque and the school to approve and organize the prayers," said Rizwan.
Prayers will continue to be held on Fridays during lunch in the courtroom for the rest of the school year.
In addition to the weekly prayers, Rizwan and Islam hold youth group meetings at their local mosque, discussing ways to give back to the Muslim community. Those meetings take place on Mondays during the afternoon at the local mosque at the SALAM Islamic Center.
If you have any questions, please contact Zoya Rizwan at zr2253@nusd k12.org. or Ifnan Islam at ii8271@nusd k12.org.