By Joel Padilla-Cuellar
Staff Writer | The Pacific Times
Vermont senator and candidate for the presidency in the 2020 election Bernie Sanders gave a fiery speech Thursday, August 22 at the Cesar Chavez Plaza in downtown Sacramento.
The stop at the capital of the historically blue state was part of Sanders' presidential campaign which also included a visit at Paradise, Calif., the small city which experienced one of the most disastrous fires in California history. 
Sanders spoke on the issues at the top of his political agenda in an effort to win over the support of the state, which has the most votes in the electoral college.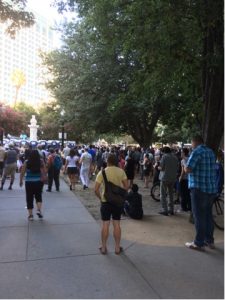 With the class of 2020 quickly approaching voting age, the time is coming to take the first steps in making an impact in our society. 
The senator's speech rang throughout the plaza with about 4,000 people in attendance, according to one security guard. Sanders checked items off his list of views and propositions including big-ticket topics such as immigration
In his speech, Sanders highlighted issues ranging from voter suppression to tax breaks to global warming. The responsive crowd cheered him on as he condemned the high incarceration rate of African American men and the existence of private prisons, which he opposes.
One of the strongest views Sanders expressed was that of the power and wealth he said the 1% wields, saying that "it's time for a political revolution."
Sanders denounced the common practice of conglomerates, like those of the fossil fuel industry, which he said places their profits above the well-being of the common man and of the planet. 
One of the best-received lines from that afternoon was, "Our nation was built by immigrants!" Sanders made clear that if elected President he would pass comprehensive immigration reform, much to the agreement of those who attended the rally.
The audience included businessmen in suits and ties as well as young adults wearing more casual attire. Even Donald Trump supporters were present, waving "Trump 2020" and "Blue Lives Matter" flags. Most notably absent were high-school-aged individuals, probably due to the fact that the rally took place on a school night.
Hawa Amari, 24, said she came with her friends to "show support for Bernie." 
Once Sanders finished and attendees began to disperse, it was evident from their conversations that the candidate had made an impression.
"Wow. I didn't expect him to have that strong a voice," one attendee was overheard saying to another.
NP3 students who are 16 years old or older may pre-register to vote here. Californians will vote in the primary elections on March 3, 2020.