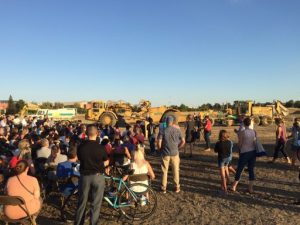 By Joel Padilla-Cuellar
Staff Writer | The Pacific Times
Construction has officially begun for a new North Natomas Community and Aquatics Center adjacent to Inderkum High School.
A groundbreaking ceremony led by City of Sacramento council members as well as Natomas Unified School District Superintendent Chris Evans was held Thursday, September 5. 
Plans for the center include an Olympic-sized pool, which can seat up to 600 people, and "all the amenities," said Evans.
"This is not just for Natomas, this is for the entire Sacramento region," he added.
The plan calls for a $45 million budget. Funding, in part, for the project is being provided by the Natomas school bond Measure L, which designated $172 million for schools in the district.
The center is projected to open to the public in about 18 months, in late 2020 or early 2021.
The aquatic facility will feature the only Olympic-sized pool within the city limits. It will be open for public uses as well as for water sports teams including those at Inderkum High School and DART Swimming and swim lessons. 
Evans said it is crucial to teach young children how to swim and be safe around the water with there being bodies of water throughout the area, including retention basins, drainage ditches and two rivers. 
"I think it's going to be a big part of the community," NP3 student Connor Huie, junior, said.