By Jack Fedor
Co-Editor | The Pacific Times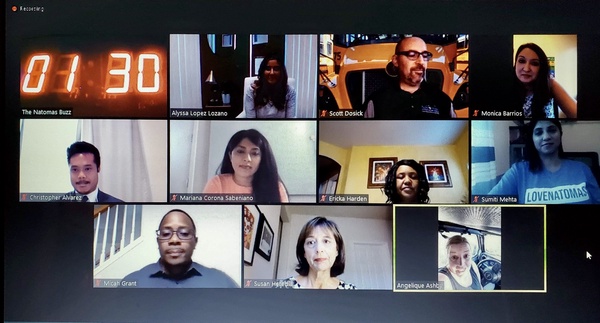 On September 24, eight out of the 10 candidates running for the three spots in the Natomas Unified school board answered various questions from readers from The Natomas Buzz about what they would do if they got a spot on the school board.
This event was organized by The Natomas Buzz and co-hosted by several community organizations.
The event began with each candidate giving a 1-½ minute introduction about why they think that they should get a spot on the school board.
Following that the questions from the readers of The Natomas Buzz, were answered with one minute and 30 seconds being given for each candidate to answer each question. Should a candidate like to add on for 30 more seconds, they could use one of their two "wild card" statements.
The order of the candidates who spoke shifted each question.
The main ideas affecting students were the discussion about how the health of students has been taken care of during distance learning and how students' health will still be taken care of during a return to physical classrooms.
Also candidates discussed programs that they would like to see implemented into schools, should they be elected.
These ideas included more STEM classes, dual immersion programs, child care, classes for students who need extra support, paths for athletes to continue to play their sport in college and a cosmetology pathway.
Some key quotes from candidates from the question and answer piece of the forum show what they have been doing on the school board or what they would like to accomplish if given a chance to be on the school board.
Candidate Monica Barrios said, "We need to plan now for how we are going to assess students and meet them where they are at and when they return to the classroom."
Candidate Christopher Alvarez, when discussing what programs are needed he said, "Tutoring programs to help our students to ensure that they get the education quality that they deserve and succeed in school."
Current board member Micah Grant said, "One of the programs that I am proud to have gotten the support of the board from was a career-college counseling program for students athletes which teaches them about being a competitor in college."
Candidate Ericka Harden said, "So we need to take every route possible to ensure that everybody knows about this forums."
Current board member Dr. Susan Heredia said, "Over the last eight years we have strengthened the budget and not only strengthened our budget, but we have strengthened our reserve."
Candidate Sumiti Mehta, when describing a career technical program combining community businesses and students she said, "So we have the businesses and our own community students benefiting each and everybody."
Candidate Mariana Sabeniano said, "One of the big things that I am running on is making sure that we have access to language programs including dual immersion."
Current board member Scott Dosick said, "If you drive through South Natomas you are going to see the upgrades that we are making in converting our three Natomas K-5 schools into comprehensive Kindergarten through 8th grade programs."
Following the questions each candidate gave a one minute closing statement about what they would like the voters to think about when it came time for the election.