By Chim Unanwa
Co-Editor | The Pacific Times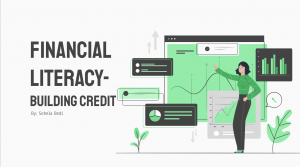 Sohela Bedi hopes to increase NP3 students' financial literacy through her Senior Project.
On Wednesday, Jan. 13, Bedi hosted a tutorial to teach students about financial literacy and why it is important. The tutorial covered credit scores, the benefits of having a credit card, what to look for in a credit card, and healthy spending habits.
"I think it's important that we all know how to navigate a world with credit, and credit cards, and using money responsibly, and creating good habits," said Bedi. "You can always just Google something and get a surface-level answer, but taking the time to really delve into something and understand it can be really beneficial in the long run."
A survey was given to students before and after the tutorial, which asked students to rank their knowledge of financial literacy on a scale of one, least knowledge to five, most knowledge. Answers ranked closer to five after the tutorial was given.
Bedi chose her topic because she wanted to help her fellow seniors prepare for life after high school, as well as herself in the process.
"I realized that I wanted to focus on something that would impact the near future, that would continue to impact [us] for the rest of our lives," said Bedi. "I think we should all know these things and be taught these things sooner in life."
So far, Bedi has done research on financial literacy, contacted experts on the topic, and held her tutorial. Later, she plans to create a Quick Facts sheet that can be distributed to students who didn't attend the tutorial, and anyone else who is interested.