By Kristen Chung
Staff Writer | The Pacific Times

STEM Society is a club founded to encourage more girls and non-binary students to pursue STEM fields.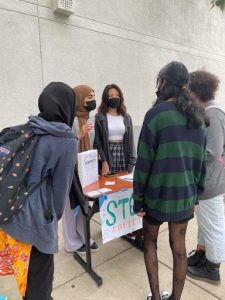 According to the U.S Labor Bureau, women make up just 28% of the science, technology, engineering, and math (STEM) workforce. The gap is even wider in high-paid STEM fields, such as engineering and computer science. 
Created by seniors Khadijah Muhammad and Kristen Chung, STEM Society aims to provide a safe space for underrepresented students to explore various STEM fields. Club meetings will feature guest speakers pursuing STEM careers. Additionally, they will have members work on collaborative projects in engineering, environmentalism, biology, and more. 
"We hope to have speakers come and talk about their experience majoring in their area of STEM and how it's like working in that field," explains Muhammad.
Their first meeting was held on Sept. 16 in Teresa Huang's room, with over 30 members in attendance. Members got to know each other through icebreakers and dived into their first global environmental competition: Project Green.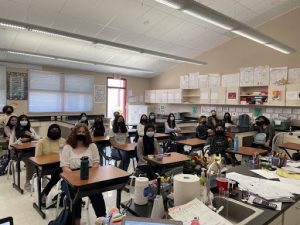 Muhammad further adds, "This challenge is designed to enhance their understanding on climate action, public health, sustainability, social justice, and advocacy. It's really exciting plus there are a lot of prizes!"
Moving forward, STEM Society hopes to go over each specific field of STEM, starting with science in their next meeting. This topic will explore career paths within that field as well as host another club competition.
They meet every Thursday during lunch in Ms. Huang's classroom (F4). You can join their Google Classroom by entering code 6lybzfp. Moreover, you can contact them through their Instagram, @np3stemsociety.