By Krista Chouang
Co-Editor | The Pacific Times
When Stephenie Rico-Picazo was volunteering at a church food pantry two years ago, several women asked her for menstrual products. Two years later, Rico-Picazo decided her senior project would focus on providing menstrual products to women who don't have access to them in Natomas.
So far, Rico-Picazo has asked for donations of menstrual products through the NP3 student government announcements, but has only received a couple donations. She plans to hold a challenge starting Feb. 22 where grade levels will compete against each other. The grade level with the most donations will earn extra pirate points. If Rico-Picazo's goal of at least 400 donations is met, all NP3 High students will have a pajama day.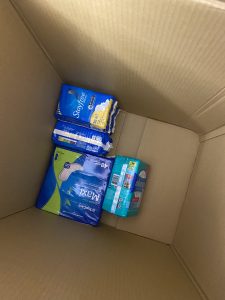 Not having access to menstrual products is considered "period poverty." Period poverty is defined as "inadequate access to menstrual hygiene tools and education, including but not limited to sanitary products, washing facilities and waste management," according to a blog by Children's Hospital of Philadelphia.
Citing the Feminist Action Network, Rico-Picazo said that many people who don't have access to menstrual products because of their high cost live with discomfort or get infections.
Rico-Picazo is working with Wellsprings Women's Center, a drop-in center for vulnerable women and children, to collect and donate menstrual products, mainly menstrual pads. All donations will go to the organization, who will distribute the menstrual products to those who need it in Sacramento.
"I need more people to donate menstrual hygiene products," she said. "Knowing that even if you donate just one packet, you're still helping someone out so they're not in discomfort or causing any infections."
Rico-Picazo is accepting donations and storing them in a box in Daisy Vallesfino's classroom in F-1 until around the beginning of March. Students can bring their donations to their advisor for the competition.
"I hope to spread awareness, tell people that like 'hey this is a problem,' and they should at least help others, especially those who have periods," said Rico-Picazo.
For further information, contact Stephenie Rico-Picazo at sr9081@nusdk12.org.