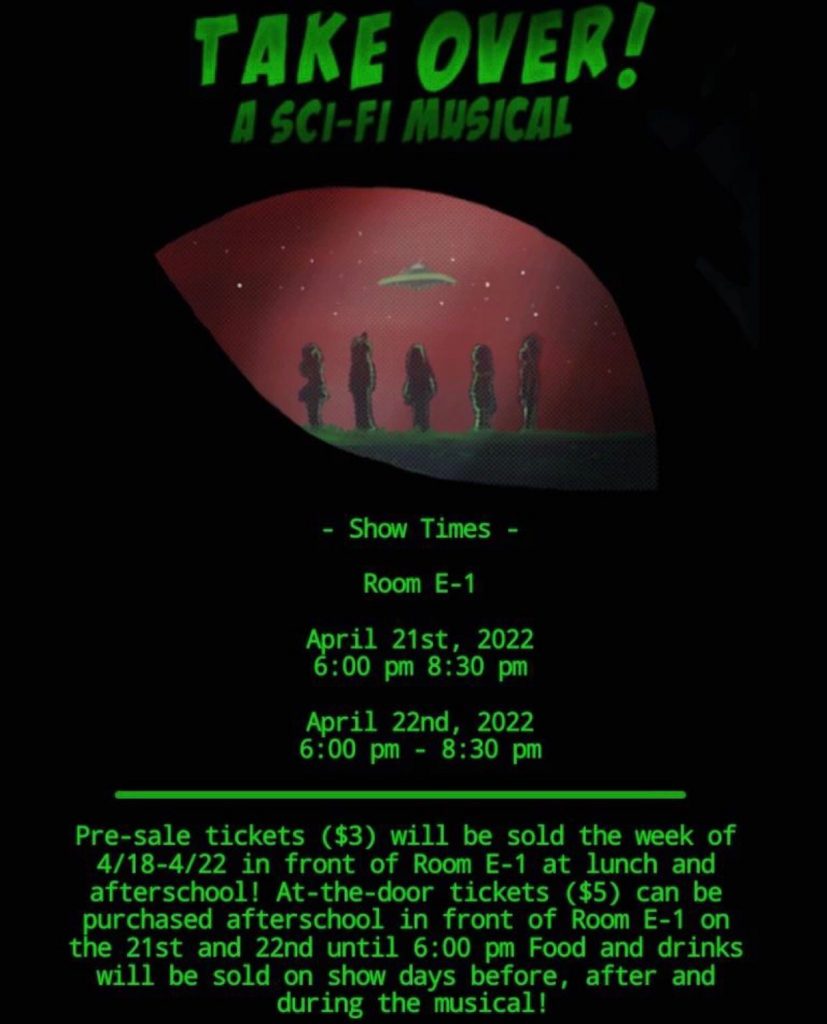 By Jack Fedor
Co-Editor | The Pacific Times
The first live stage production in two years will take the stage later this week at NP3 High School.
Performances of "Take Over! A Sci-Fi Musical" — about five teens that discover the presence of aliens in their small town — are scheduled for 6-8:30 p.m. on Thursday and Friday in E-1. The performances will later be available to watch on YouTube at https://www.youtube.com/channel/UC5ATGRuqZj2YUxDwvtFmfGg.
The musical was written by senior Jaclyn Nguyen and performed by the Drama Club.
"I began writing 'Take Over!' in March 2020 even though we were in lockdown and our Drama Club production that year was canceled, I wanted to keep doing something related to my passion for the arts," said Nguyen.
The week of the show, NP3's Drama Club is performing select scenes from the musical during tutorial to NP3 Elementary students.
Students in Kindergarten and first grade attended on Tuesday, second and third grade are scheduled attend on Thursday, and fourth and fifth grade on Friday.
The musical is a culmination of around eight months of work and practice and is the first production that is in-person since April 2019, according Nguyen.
Last year Drama Club produced four films and in 2020 the play which was to take place during the spring was canceled due to the COVID-19 pandemic.
Pre-sale tickets are available for $3 in E-1 at lunch and after school. Tickets will also be sold at the door for $5 before each performance. Food and drinks will also be available.