By Krista Chouang
Co-Editor | The Pacific Times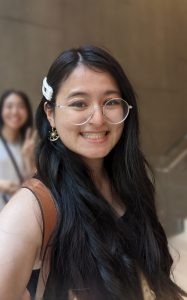 Some students might remember Anna Ho from when she was a student teacher at NP3 High School.
She's back this fall as the new Experimental Science and Biology teacher.
Ho's first teaching experience was as a student teacher for Daisy Vallesfino teaching anatomy and biology.
She graduated in 2019 from UC Davis with a degree in neurology, physiology, and behavioral science and dual minors in Japanese and education.
"I wanted to be a teacher because I really like working with kids and I like seeing that growth from people in general, and I see it more within the teenage population," she said. "I like it also because I believe that teens dictate pop culture and I think it's very interesting to see how it manifests in a school environment, and how your ideas can translate in the classroom and in science projects."
Ho first full-time teaching job was for a middle school in 2020 during the COVID-19 pandemic.
"I think it was a good experience for me, but I am looking to expand on my skills, so that's why I wanted to just start over fresh," explained Ho. "Because the pandemic really skewed my teaching, I just wanted to start over fresh at a high school."
Ho said she enjoys teaching science because she likes seeing students have fun while learning.
"I like teaching science because we get to do the coolest things, like experiments and building things, and just learning and having fun," said Ho.
According to Ho, the strong bond between NP3 students is what convinced her to accept a teaching post at the high school.
"I like how deeply connecting everyone here is with the community," she said. "It's just really endearing to me because y'all have each other's backs, like I've never seen such a strong community within students, so that's why I wanted to teach here."
Ho saw the bond between students and teachers when she was part of the senior project panel. She said some students were moved to tears after finishing their senior project presentations.
"When (students were) done with their senior project and are like 'oh shoot, making change is hard but I did this,' seeing that accomplishment is the reason why I'm here and just reaffirms that I'm at the right school," said Ho.
So far, Ho said she is enjoying NP3. On top of teaching experimental science and biology, she is the new advisor of former teacher Alejandro Chan-Artiga's class of 2024 advisory.
"I love the community here, the teachers are great, the staff is just amazing, and they feed me," Ho said. "I love the science department, we always have food."
Ho is originally from Stockton, but now lives in Davis. In her free time she plays video games such as Raft and Valorant, trying new restaurants and drinking boba. While she does not have a favorite restaurant in the Natomas area, her favorite boba place is Mr. Sun.
Ho also enjoys visiting Japan and watching the anime Spy x Family, and one of her pet peeves is when papers are hung up slightly crooked.