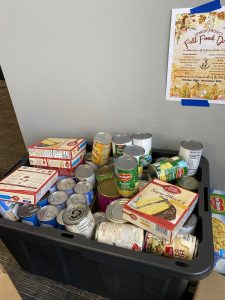 By Leila Pabst
Staff Writer | The Pacific Times
As part of her Senior Project action, Leila Pabst collaborated with the Natomas Chamber of Commerce to host an on-campus food drive.
In November, Pabst worked with Ms. Orr's fourth grade elementary class to spread the word around campus and help collect donations.
Pabst sent out a flyer to parents and students across all NP3 campuses. Items were collected in black bins that were located in the high school and elementary offices.
Pabst asked for families to donate specific Thanksgiving, shelf stable items that would be donated to Joey's Food Locker who donates to families in Natomas.
After a week-long collection, Pabst collected over 450 cans and boxes of food.
The food was then distributed to food insecure families in Natomas as part of their Thanksgiving meals.