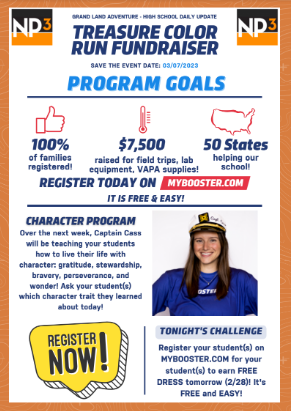 By Leila Pabst
Staff Writer | The Pacific Times
NP3's annual Treasure Run is kicking off March 7 for the first time since 2020.
NP3's K-12 treasure run event will take place March 7 to help fundraise for field trips and other high school events. Students will have an adjusted schedule on the day of the event to allow time for them to participate in the run.
This year, the run is going to be coordinated through the organization, Boosterthon. Boosterthon representatives will take care of all of the logistics such as money collection and incentives.
Captain Cass and Eddie Confetti will be on campus at lunch this week to get NP3 students excited about the run next week. Most of their time will be spent with elementary and middle school students, but they will have tables with info and activities in the quad for high school students.
During advisory this week, students are encouraged to register and add donations from their families. Students may receive prizes and incentives. Each day leading up to the day of the run, students are eligible for prizes each day of the week for registering and donating.  
On Tuesday Feb. 28, the first class to reach 100% registration on mybooster.com earned a $30 Amazon gift card for teachers to use in the classroom.
On Wednesday March 1, the class with the most new donations earned a Kahoot game with the Booster team.  Then, Thursday March 2, the class with the most shares of their mybooster.com donation links will earn a scavenger hunt. 
On Friday March 3, students who receive a donation(s) equaling $60 earn a mystery bonus prize. The class with the most student participants overall will earn a water balloon battle.
Lastly, on Monday, March 6, the class with most donation will earn extra individual color packets.