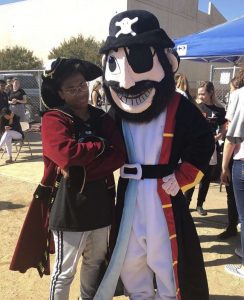 By Amritpal Nijjar
Staff Writer | The Pacific Times
For the first time in Natomas Pacific Pathways Prep's history, the school mascot comes to life!
By now, students, teachers and staff alike have likely seen Patchy the Pirate around campus during events such as First Fridays, the Treasure Run and homecoming.
The NP3 community is pleased with the new mascot and so is the person under the mask.
Patchy told The Pacific Times that they took inspiration from the Sacramento Kings mascot. He took the idea for a mascot to Student Government, and they voted in favor of having a pirate mascot.
"It looked extremely fun, so I got in touch with the people who could make it happen here at NP3," said Patchy.
Patchy enjoys running around during events, high-fiving people and taking pictures.
"It feels great to show some school pride and to be my school's first mascot" Patchy added. "The costume brings a new energy to school events."
For now, Patchy's true identity remains a closely-guarded secret, even though many have tried to find out who's behind the mask. During our second First Friday event, for example, a group of students tried to pull the head off, but were unsuccessful.
"It's kind of funny and worrying at the same time," Patchy said. "I always have to remain attentive in case someone tries to tackle me," Patchy says that he may reveal his true identity at the end of the year.
Keep an eye out for Patchy the Pirate during upcoming events.