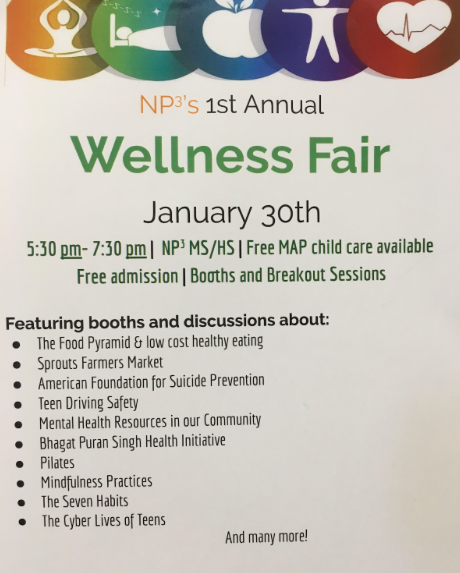 By Isabel Penman
Co-Editor | The Pacific Times
NP3's first Wellness Fair is set for the school gym this Wednesday, Jan. 30.
NP3 students parents are encouraged to attend and learn more about mental and physical health topics via information booths and wellness experts.
¨Our goals are to build relationships within our K-12 school community, creating awareness around mental health, and to educate and inform our school community on resources available to them," said Jonathan Brinkman, a middle school counselor who is helping to orchestrate the event.
The event will feature booths and discussions about teen driving safety, farmer's markets, mindfulness practices, cyber safety as well as suicide prevention help, just to name a few. In addition to local organizations and businesses, several NP3 High School seniors will also have booths related to their service-learning projects.
"I truly believe everyone needs to be healthy, and that the school is where both mental and physical health should be emphasized," said Ashlynn Wildrom, a senior who will be presenting on teen mental health at the event. "I am honestly really excited to be a part of it."
The fair will take place from 5:30 p.m. to 7:30 p.m. and admission is free.
Both middle school and high school families are encouraged to attend to expand their resources and learn more about wellness for their students.
¨NP3 is a community and we need to take care of ourselves,¨ said Brinkman.