By Jack Fedor
Co-Editor | The Pacific Times
Sophomores at NP3 High took first place in the Water Conservation Challenge, First Friday event on Sept. 3 and gained 100 Pirate Points.
This challenge was part of the monthly First Friday event in which grade levels compete to accomplish a task better than all of the other grades.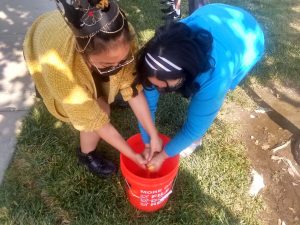 The Pirate Point standings following the First Friday event had seniors in first with 450 Pirate Points, sophomores in second with 300 Pirate Points, juniors and freshmen are tied in second with 300 Pirate Points and sophomores in fourth with 250 Pirate Points.
Near the end of the school year the grade with the most Pirate Points will have an extended lunch where they will get to choose the music played in the quad, get reserved seating in the quad, and a choice of a spirit day.
This challenge tasked advisories with transporting as much water to two buckets which were placed at the middle and the end of the quad. Water had to be transported from a full bucket on the corners of the quad to an empty bucket in the middle of the quad.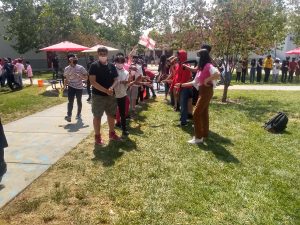 Students had two minutes to transport water between buckets using a sponge which every person in each advisory had to touch before the water could be emptied into the empty bucket.
Three sponges were given to each advisory and students had to return a sponge which was emptied back to the bucket full of water.
The amount of water which was placed in each bucket was measured in inches in which sophomore advisories transported a total of 44.75 inches of water.
In second place was senior advisories with 42 inches of water, followed by third place freshmen with 35.125 inches of water and juniors came in last with 31.125 inches of water.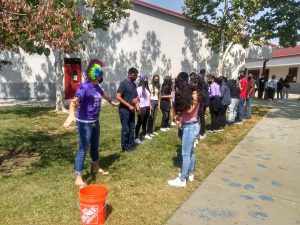 Some strategies which were used were passing the sponges back and forth between students in two separate lines, having a student run through one or two lines and having everyone touch the sponge as it passed by and using all three sponges at the same time.
If an advisory did not have all students touch the sponge or they kept putting water into the bucket after the two minutes were over they were penalized one inch of water from the totals.
The advisories which were given a penalty were Peter Riehl's advisory, Heather Higgins' advisory, Kirsten Spall's advisory, Katie Durham's advisory, Staci Osborn's advisory, Jonathan Peacock's advisory and Teresa Villaneva's advisory.