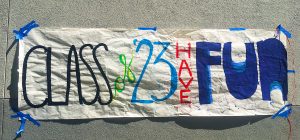 By Zara Afridi
Staff Writer | The Pacific Times
Freshman Orientation marks the official start of the school year for incoming 9th graders. The Class of 2023's orientation was held Tuesday, July 30 from 10:30 a.m. to 12:00 p.m.
During this event freshmen meet their adviser and counselor. The NP3 high principal, dean of students and other teachers also have the opportunity to introduce themselves to the newcomers, discuss school policies and share the support they offer for NP3 High students.
The Class of 2023 met in the gym with their schedules for the school year and watched the dance team perform.
Groups of freshmen rotated around four stations run by student government officers. The stations consisted of Principal Melissa Mori and Dean of Students Shawn McGuire who talked about behavior expectations and dress code; counselors Kelly Clancey, Navjot Hayer, and Linday Ulrich spoke about their department; a Q&A session with the student body officers to ask any questions they have about high school; and a campus tour to help students get familiar with NP3 High.