By Zara Afridi
Staff Writer | The Pacific Times
NP3 High offers many opportunities for students to expand their public speaking skills. One of those opportunities is through the Moot Court program.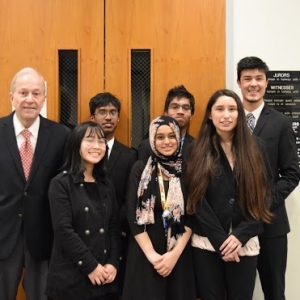 "The Moot Court program provides students with a variety of skills and knowledge related to exposure to the legal field itself, as well as general awareness of the criminal justice system and the more generally applicable benefits of speaking skills, team skills, and self-confidence," said Staci Osborn, the Moot Court's program adviser and a NP3 High science and law teacher. 
In Moot Court, teams of roughly four students prepare arguments touching on three main constitutional law issues presented to the court, while the fourth member of the team presents the rebuttal, deciding on the spot which arguments to address. 
"By preparing a moot court argument, students improve their own argumentation skills.  Students improve public speaking skills and how they clearly communicate complicated ideas to others as well," said Osborn.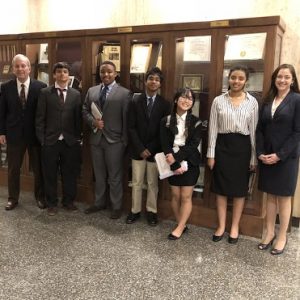 In Moot Court, you are required to attend every meeting and be active in interacting and helping your peers. 
"You have to be a team player and help your teammates to improve and challenge themselves. You also have to be open to improving your own skills and ways of approaching challenges, as well as being committed to your team," said Osborn. 
Moot Court is an after school activity at NP3 High and practices are held every Wednesday from 3:10 p.m. to 4:10 p.m. in the Courtroom.
Osborn added," I encourage students to join (the Moot Court team) because it a great way to learn critical thinking, learn about the court process, and learn about current Constitutional issues related to schools (like search and seizure of high school student backpacks, the school's responsibility when students are bullied off-campus and on social media, and student first amendment rights while at school). " 
If you have any questions about Moot Court or wanting to join the team, contact Staci Osborn at sosborn@natomasunified.org.