By Joel Padilla-Cuellar
Guest Contributor | The Pacific Times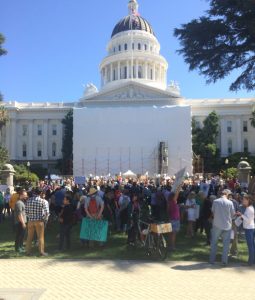 One of the largest movements to demand action be taken on climate change is that led by the Swedish teen Greta Thunberg, consisting of millions of teens worldwide. 
The movement planned a worldwide strike on Friday, September 20 in anticipation of the United Nations Summit for Climate Action, with a demonstration being staged on the west steps of the state capitol in downtown Sacramento. 
UN Secretary-General Antonio Guterres called on the UN's member nations to create a realistic plan to reduce greenhouse gas emissions.
The demonstration was held prior to the UN summit to make clear young peoples' demands for world leaders.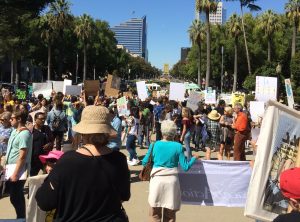 Students from all around the Sacramento region walked out of school to join the demonstration. 
In attendance were a number of our own students among a crowd of high school students, college students, and the occasional middle-aged individual. 
The signs being held had lines like, "There Is No Planet B" and "It's OUR Future!" Other posters contained darker messages like, "You Are Killing My Childrens' Future." 
Sacramento Mayor Darrell Steinberg spoke to a crowd numbering in the hundreds of the effect the movement was making on legislators.
"You are pushing us to take action," Steinberg said, "the people here [in the capitol] work for you."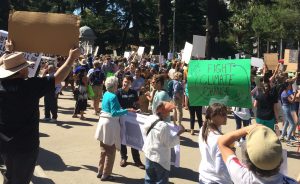 The organizer of the demonstration, Supriya Patel, 13, cited her fears concerning the worsening of the planet's conditions.
"I'm terrified because by the time I'm 20 it could be irreversible," said Patel to the crowd. "It's going to affect my generation the most."
The student organizers made use of the stage to demand a transition away from fossil fuels, and to declare a state of emergency, said Patel. 
Another student, Hana Uhler of Lincoln High School, went on to dispel the myth that climate change is an issue that only concerns melting ice caps and not people.
"Global warming is not just an environmental issue. . . The most affected people are the indigenous groups whose homes are being destroyed," said Uhler.
Patel finished her speech saying, "You don't have to settle for doomsday."