By Jack Fedor
Staff Writer | The Pacific Times
The second annual Ballin for Change fundraiser was held last week on Feb. 6.
This year, the focus was to raise money for fire victims in Australia as part of Jaspreet Kaur's senior project. Other seniors also supported in planning and helping the event occur.
The sign-ups for this event started in late December and ended on Jan. 31. 
Juniors and seniors played each other, but to keep the game between the freshman and sophomores competitive, a draft was instituted. This draft was for all players who signed up for the event. 
Team captains for this event were decided based on the most skilled players were chosen by the event organizers. Players for Team Xavier and Team Anthony both of these teams were selected last Tuesday at lunch.
The Ballin for Change committee sold pizza at the event and the Latinos Unidos club also raised money for their activities by selling chips with sauce.
This event started with the national anthem performed by the NP3 Choir Club. Mr. Jones and Mr. Hagarty provided commentary to the spectators as the games progressed.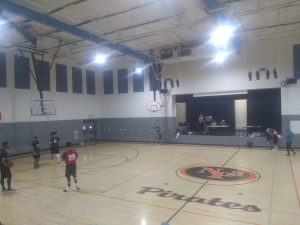 In the first game the match up was not close until the end of the fourth quarter when Team Anthony came back and had the chance to tie or win the game with four seconds remaining. The final score for the game was 61-59, with Team Xavier winning over Team Anthony.
At half time between the two games, the NP3 Dance Team performed a dance and then 24.8 seconds of silence were observed as a tribute to five time NBA champion Kobe Bryant.
The second game was a bit closer throughout and resulted in a final score of 57-49, with the seniors getting the win over the juniors. This game featured the intense action  coming between the final six and three minutes of the game. 
About 250 people purchased tickets. The Ballin for Change committee said they raised about $1,000.
The Ballin for Change committee has been and continues to sell pizzas to raise more money.
The first Ballin for Change raised money for those affected by the Camp Fire in Paradise, CA.