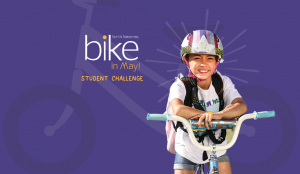 By Jack Fedor
Staff Writer | The Pacific Times
May is Bike month and NP3 High Students are being encouraged to ride their bikes.
In an effort to encourage students to ride their bikes during the month of May, NP3 High is participating in a statewide competition hosted by North Valley Military Institute near Los Angeles.
North Valley Military Institute is challenging students of all charter schools in California to ride to compete to see which rides their bikes the most. The contest is not just limited to students but community members, parents and staff are also encouraged to participate.
The top 25 riders in each of seven different categories will receive a virtual award.
The categories are as follows: pre-kindergarten through second grade, third grade through fifth grade, sixth grade through eighth grade, ninth grade through 12th grade, staff members, parents and community members.
The top three elementary, middle and high schools that log the most miles will also get a virtual award.
Each participant who rides more than 50 miles during the month of May will get a certificate of achievement.
To participate, register using this link https://bit.ly/bikeparticipant.
NP3 High promoted this contest using their weekly 'Captain's Log,' which informs students and parents about the upcoming week.
Local non-profit transportation agency Jibe is also holding a competition for all students at north Natomas schools. Students are asked to record the amount of time they ride their bikes this month.
Although there are no organized bike rides, which are typically held during bike month, there are maps of the area and other resources at https://jibe.org/bike/.
The Jibe student challenge includes a leader board of the top 10 riders as well as prizes which will be awarded to the top three riders at each school.
At this time the plan is mail prizes, but if they can be distributed in person, they will be, according to Jibe's bike and bus program manager Mellissa Meng.
Every ten minutes on a bike is equal to one trip. To register, log trips and check out the top 10 riders to go https://jibe.org/mibm/mibm-main-page.
Information about Sacramento's regional May is bike month challenge check out https://mayisbikemonth.com/.