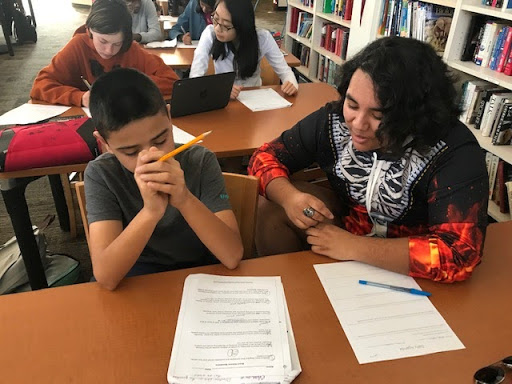 By Krista Chouang
Staff Writer | The Pacific Times
The NP3 Middle School tutoring program is looking for high school students to volunteer to tutor middle school students in their volunteer program.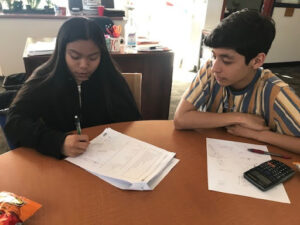 The tutoring is offered as an after school program during which approximately 30 NP3 middle students get academic help from NP3 high school student volunteers. The program has been around for eight years, and 8th grade social studies teacher Nicolas Kons has been in charge of this program for four years now. As the first virtual year, the program will work slightly differently from previous years.
Similar to the rest of NP3 school activities, the tutoring program will take place on Zoom, the video conferencing website most schools are using in substitute for physical classes. High school volunteers and middle school students will meet once a week for 45 minutes. More details about the day and time of meetings will be sent out by next week. Tutoring sessions around midterms, finals, and other events will be flexible to accommodate high school students' own education.
Tutors and tutees will join the same Zoom call and will separate into breakout rooms to proceed with one-on-one tutoring. Ideally, there will be one tutee per tutor, but sometimes a tutor may be assigned two tutees.
The tutoring program focuses on 6th grade students, who take up around half of the available slots while 7th and 8th graders fill the other half. The program does have the same students consistently attending, unless they drop out or are dropped from the program for lack of participation or poor attendance. Unlike intervention, the drop-in class sessions that middle school students who need help are assigned to attend, tutees will have to be enrolled in the program to receive help.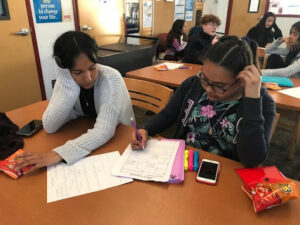 High school tutors will be working with middle school students on a wide variety of subjects, depending on what each tutee needs help with. While being a tutor does not require the volunteers to completely relearn a subject they had years ago, a refresher would be helpful. Volunteers don't teach the tutee new information from scratch, but rather use the tutee's resources provided by their classes such as class notes and textbooks to strengthen their understanding.
Student pairings will also be assigned depending on the strengths and weaknesses of the tutor and tutee respectively.
"In the past couple years, I've tried to focus a little bit more, where I get information from tutors on their specific strengths, I can pair them with students who have specific needs," said Kons. "Like if the student is struggling in math, they could really benefit from a high school tutor who's proficient in math."
The program is looking for student volunteers who are academically capable of tutoring a younger student. The high school tutors are expected to behave professionally and focus on helping their tutee (not be distracted by their devices). Good attendance is also mandatory.
"In the past, it was just any high school tutor who was available," said Kons. "As I kind of got more experienced with it, I've been a little more selective with who could be a tutor. We're generally trying to get as many tutors as we possibly can, so what I'll do is have any tutors who are interested to come aboard, then over the course of the program I'll let tutors go. If I feel like this isn't a good fit for them, if I feel they aren't being as helpful as another tutor could be, I'll just lightly ask them to move on."
Want to join?
If you believe you are qualified and willing to spend 45 minutes of your time every week helping a middle school student with homework, test prep, retakes, and maybe more, contact Mr. Kons through his email at nkons@natomasunified.org within the next three weeks.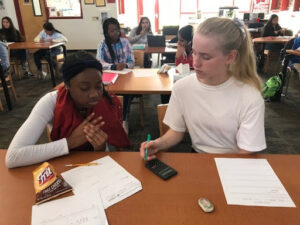 Being a tutor includes many benefits that can help beyond high school, according to Kons.
"Other than the obvious benefit of knowing that you're helping another human being grow as another human being, hours can go towards community service hours, it looks great on job applications, it looks great on college applications," said Kons. "I'm happy to sign off on all of those, write letters of recommendation for tutors that are there, working, taking it seriously."
The program is purely volunteer, which means there are no grades, compensation, or credits to be earned by participating.
"The middle school tutoring program was my first experience in tutoring," said senior Ashvir Singh, a tutor since 2017. "I learned to be more cooperative and I learned to be more patient. There were always the few that refused to do their work, but that's where I had to be especially patient. It's a fun experience nonetheless, and rewarding knowing that I can help teach someone."
"Tutoring is a great experience for tutors and tutees alike because tutors can learn skills like teaching and leadership and tutees can get the help they need to succeed," said junior Noble Mahan, a former tutor in 2019. "It is very good to know that you are bringing a middle school closer to their goal of success."