By Berkeley Boyd
Staff Writer | The Pacific Times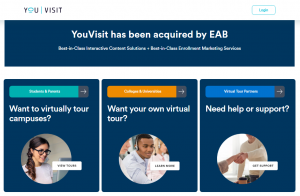 Due to the national pandemic, many schools across America are continuing the school year online including colleges.
NP3 High School usually holds college fairs during which colleges come visit the campus and promote their programs, but that won't happen this year.
Even though students can no longer physically visit colleges for an in-person tour or visit, there are many colleges that have virtual opportunities to explore their campus.
Several big name colleges have had virtual events, such as UC Berkeley, which include a Q&A about the campus and degree offerings.
There are also websites, like http://YouVisit.com, which have several options for virtually visiting or touring campuses. In fact, all University of California schools use YouVisit.com to hold their virtual tours There are many California colleges that are not UCs, that have websites with additional information on how and when people can visit.
Some colleges are allowing physical tours but are requiring health screens and mandatory quarantine before entering campuses. However due to the nature of the pandemic with cases fluctuating, there is a possibility some of these in-person visits will not be an option.
NP3 High School counselors have the ability to help students with information for visiting colleges during the pandemic.
For more information about colleges and visits can be found here at https://natomasunified.org/np3h/counseling/.