By Krista Chouang
Staff Writer | The Pacific Times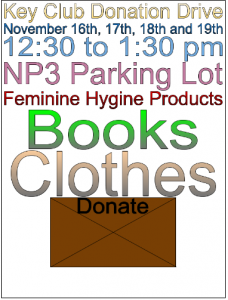 NP3 High School's Key Club is hosting a donation drive to help those in need the week of Nov. 16-19 at the school.
The event was organized in the spirit of Thanksgiving to inspire others to be grateful for the surplus they have and share with those who may be struggling. The event is also a volunteer opportunity for Key Club members.
Donations of unused feminine hygiene products, clothing, books, and canned food for all ages and of usable quality will be accepted.
Donated items will go to the Salvation Army, which focuses on helping all those in poverty, and Loaves and Fishes, who focuses on aiding the homeless.
The drive-thru donation drive will take place in the school parking lot at 3700 Del Paso Road, Sacramento, CA 95834. Donations will be collected by volunteer Key Club members who will be taking COVID-19 precautions by physically distancing and wearing masks and gloves. Key Club is aiming to get as many donations as possible.
"To those who have the ability to donate, please do so," said Ashvir Singh, president of the club of the 2020-21 school year and organizer of the event. "Sacramento is an area with high poverty, and if we can help at least one of those people, we should do everything in our power to help those that are less fortunate."