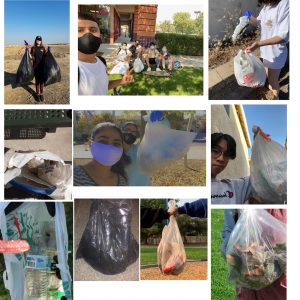 By Jack Fedor
Co-Editor | The Pacific Times
The NP3 Community Volunteering Club is a new club this school year which has been organizing events for members to participate in.
The club meets 12:15 p.m. to 12:45 p.m. every other Wednesday online. The club leaders are Anzar Mahmood and Hadeed Ajimal and the adviser is Anthony Parker.
Members must attend club meetings regularly and participate in all events by the end of the year, according to Ajimal.
On Oct. 31 the club finished a community trash pick up event which began on Oct. 1.
This event had members pick up a bag of trash around their neighborhood and submit a photo of the trash, according to Mahmood.
Ten bags of trash were picked up around the club members' neighborhoods, parks, pathways and shopping centers in Natomas.
On Nov. 19th the club finished writing virtual messages to seniors in Minnesota via a website.
"Eighteen people out of 22 members (participated), which is pretty good since it's our first year as a club," Mahmood said.
For December club members are tasked with writing one letter of appreciation to a staff member and one letter to a friend or classmate by Dec. 17, according to Mahmood.
For more information you can follow the club's Instagram at np3.community.volunteer.club, join the club's Remind using code @np3v,  email Anzar Mahmood at [email protected] or email Hadeed Ajimal at [email protected].