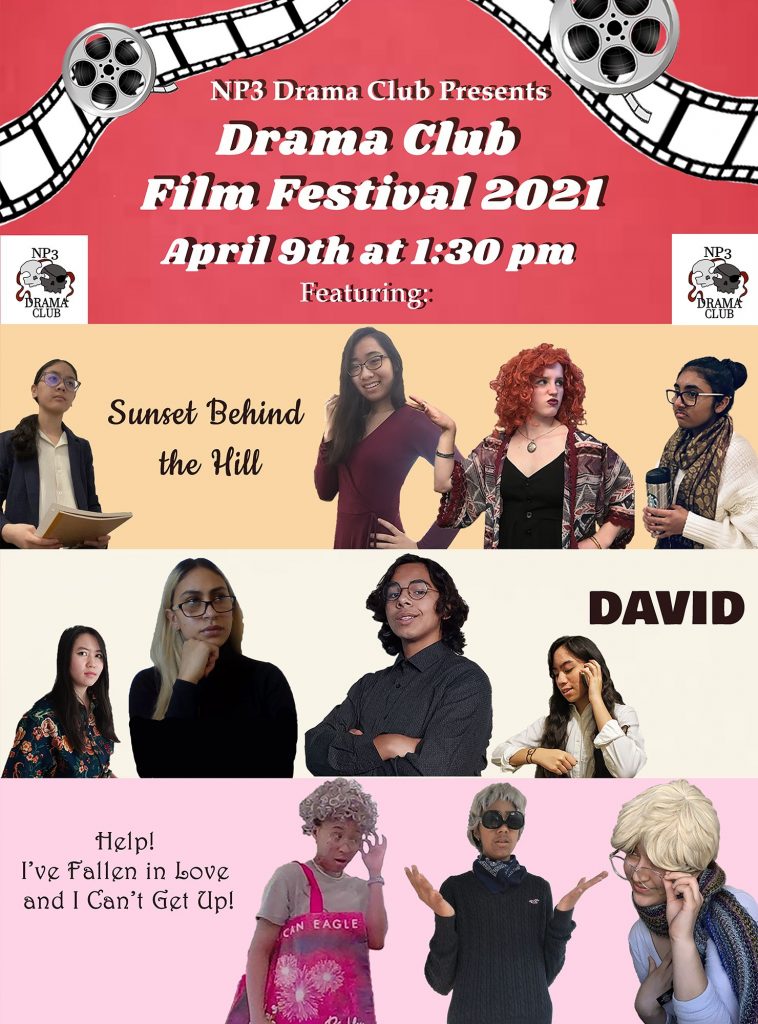 By Jack Fedor
Co-Editor | The Pacific Times
Np3 High Drama Club's 2021 film festival will premiere tomorrow April 9.
The festival will feature three films which were written and edited by drama club members. The film festival will premiere on Melissa Ciubal's YouTube channel at 1:30 p.m. Films will still be viewable on YouTube following the premiere.
"Each film is between 15 to 22 minutes. We tried to stick to 20 (minutes)but each story was different and each film's time needed to reflect the story it was trying to tell," said Noble Mahan, co-president of the drama club.
The film festival films are Sunset Behind the Hill, David and Help! I've Fallen in Love and I Can't Get Up. A trailer for the film festival was promoted in the Captain's Log, which is sent home weekly to parents and students, and also in the student government announcements shared weekly with NP3 High students.
Sunset Behind the Hill features Mahan, Jaclyn Nguyen, Rachel Tran, Jagjeet Kaur and Emily Duong. This film is a documentary about the death of one of the cast members on TV movie A House On the Hill.
David features Rudy Chavez, Zahavah Allah, Jasmine Castillo and Emily Duong. This film is about David, an accomplished person who is not who everyone thinks he is.
Help! I've Fallen in Love and I Can't Get Up features Kennedy Lopez, Bani Singh, Kiara Miller, Inaya Valenzuela and Mahan. This film about a senior citizen dating convention.
"Each film is unique and each group worked incredibly hard to make it the best. I am so glad that the drama club came together during the pandemic and still made a great film," said Mahan. "It is fantastic to see all of the new members' budding talents and our old members still coming back and getting better."
This project is different from drama club's first film 10 Ways to Survive the Zombie Apocalypse which featured two people being in the same shot at the same time compared to every actor being filmed in their own shot.
Mahan said, "With the first movie you would just film by yourself and move on, but with this, you had to practice again and again to get it right."