By Jack Fedor
Co-Editor | The Pacific Times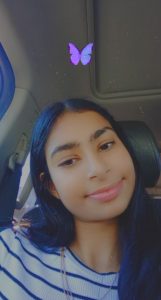 Manreet Randhawa, a senior at NP3 High wanted to assist women who are negatively affected by toxic masculinity.
Toxic masculinity is a set of stereotypical attitudes and ways of behaving expected of men which is thought to have a negative impact on men and on society as a whole. According to a February 2019 article in The Atlantic, the media has blamed toxic masculinity for rape, murder, mass shootings, gang violence and online trolling.
"There are many women's issues that stem from toxic masculinity, for example, domestic violence, abusive relationships, sexual violence, street harassment, and rejection violence to name a few," said Randhawa.
Randhawa began her project by sending editorials to newspapers about toxic masculinity as well as posting about it on her Instagram account.
From Feb. 24 through April 9, Manreet Randhawa hosted a donation drive at the NP3 main campus for items which women are in need of such as cleaning supplies, feminine hygiene products, undergarments, toiletries, baby products, cosmetics, art supplies and toys.
Seven participants in the donation drive donated 110 items.
"I think my drive was quite successful, I collected donations worth over $400," said Randhawa. "But I think it's important to acknowledge that none of this would have happened if the community did not participate."
The donations were given to WEAVE, a non-profit organization that supports survivors of domestic violence, sexual assault and sex trafficking in Sacramento.
Randhawa plans to continue her project in support of women on her Instagram account. She also plans to host more donation drives this summer after graduating from NP3 High.
For more information about Randhawa's project visit @toxic_masc_hurts on Instagram and her senior project website.