By Tahasin Rahman
Staff Writer | The Pacific Times
Foreign Movies Club teaches students about foreign cultures through entertaining movies.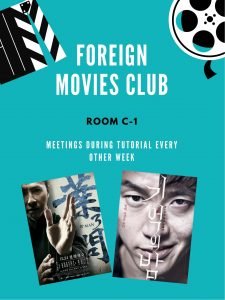 Movies around the world often contain elements of their cultures. Foreign Movies Club seeks to bring attention to these cultures through watching films. The movies are projected onto the wall in Annie Jones's room C-1 and streamed in their original language with English subtitles.
The president of the club, Fraz Ahmed, was inspired by the foreign films that he watched and wants to allow students to enjoy the same experience.
"I started this club because watching foreign films is a passion of mine and I thought if we could get people to watch movies together, it could truly create a great atmosphere for everyone," he said. 
"Being a part of the club has been very exciting, and watching the movies as a whole has brought joy and excitement to a lot of my peers," said Conrad Vuong, the vice president. 
The club plans to watch various genres from different places around the world. So far, "Ip Man 3" and "Forgotten" have been played. Ip Man 3 is a Chinese action film while Forgotten is a Korean thriller. 
The club meets during tutorials every other week in Jones's room at C-1. For further information, contact Fraz Ahmed fa4235@nusdk12.org.