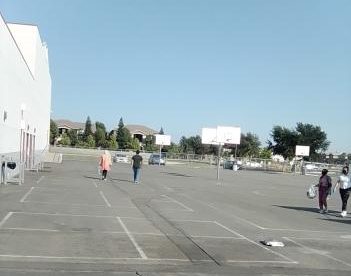 By Guy Gong
Staff Writer | The Pacific Times
More than two dozen students picked up trash around campus for an hour at the first on-campus cleanup event of the 2021-22 school year on Sept. 16, hosted by Key Club.
Key Club is an international volunteer organization that focuses on community service. It functions in a hierarchical organization based on contribution and seniority. Participants met up in Daisy Vallesfino's room in F1 at 3:45 p.m.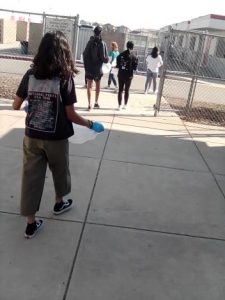 Groups were generally split into teams of two, with one large plastic bag provided for each partnership to collect the garbage. Snacks, drinks, and a pair of blue gloves were provided for every student. Students were then sent off throughout campus to pick up any trash they could find. The event lasted for an hour, and by the end, every bag was considerably filled and taken to the dumpster in front of the school at the end of the event.
The event took place all throughout campus, although it was originally meant to take place in Blackbird Park. While trash was present in almost every corner of the school, a majority of the trash was found in grass.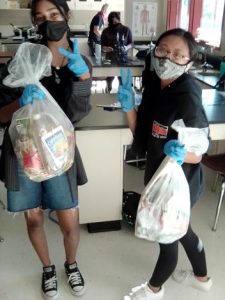 The grass in and around the quads of both NP3 High and Middle had lots of plastic, paper, and food material. The majority of trash came from food and food packaging. It was difficult to distinguish what came from food packaging and what was just paper. The food itself was considerably aged, showing that it had not been picked up for a long time. A lot of the time, participants refused to collect some trash. Sometimes, participants refused to collect certain pieces of trash, which were either difficult to locate or obnoxious to pick up.
Plastic water bottles, although were a large portion of the trash, did not take up the majority. Most of the trash coming from food came from materials usually found in school lunches.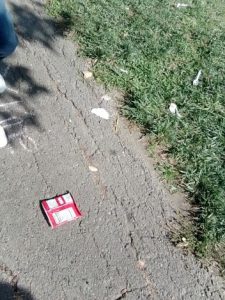 Most people simply walked around, going to major areas to pick up the trash that others may not have picked up. Every team picked up a considerable amount of trash. Everyone split up into different sections of the school and every bag was thoroughly filled, showing that no corner of the school was untouched by trash.
However, when asked about her opinion on the amount of trash in the school, key club member Stephanie Labang responded, "Our campus isn't super filled with trash so I'm not disgusted, but I do think that it's something that we can work on lessening somehow."
It is encouraged to put any trash—large and small—into the appropriate places.